Andrew McCutchen owns the Washington Nationals
Pirates outfielder Andrew McCutchen absolutely owns the Nationals. Here is just how much he owns them.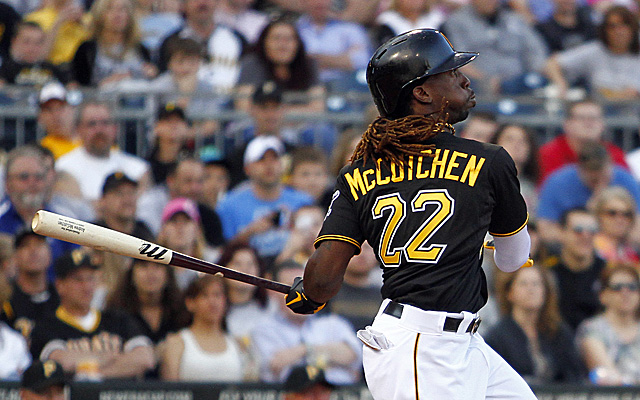 More MLB: Scoreboard | Standings | Probable Pitchers | Sortable Stats | Odds
The Pirates beat the Nationals 3-1 Friday night, moving to 17-12 on the season. And remember, the Bucs started 1-5, so they're 16-7 since. In the Friday victory, All-Star center fielder Andrew McCutchen went 3-for-4 with a homer. And his career line against the Nationals just got that much more sick.
In 24 career games against the Nats, McCutchen is now hitting .456/.514/.800 with six doubles, two triples, 11 homers, 22 RBI and 24 runs scored. Just for fun, let's prorate McCutchen's numbers out to 162 games to get a better idea of just how much he owns the Nationals -- and, yes, I'm aware 24 games is far too small a sample for him to keep this up. Remember, I said "just for fun."
The .456 average and 1.314 OPS stay the same, obviously. Here are the counting stats, again, prorated out to a 162-game figure:
41 doubles, 14 triples, 74 homers, 149 RBI, 162 runs scored, 88 walks, 61 strikeouts, 20 stolen bases and, wait for it, 277 hits.
Yowza. Holy dreadlocks. That, my friends, is ownership.
So if you hear screaming in the middle of the night in Pittsburgh, it may just be the entire Washington pitching staff, collectively having nightmares about a 5-foot-10 masher from Fort Meade, Fla.
A beardless Wilson says that he tried to outrun the police on the second day he had his driver's...

The Diamondbacks outfielder was not impaired, he was just going way too fast

MLB can unilaterally implement rule changes, which will also include limits on mound visit...
If the MLBPA wants to repair MLB's salary structure, it should push for more money for young...

Fans aren't happy Gerrit Cole and Andrew McCutchen have been traded away

Acuna is arguably the best prospect in baseball