Are 300 wins enough? Breaking down Tom Glavine's Hall of Fame case
Tom Glavine won 305 games in his MLB career. Is that all we need to know when it comes to his Hall of Fame argument?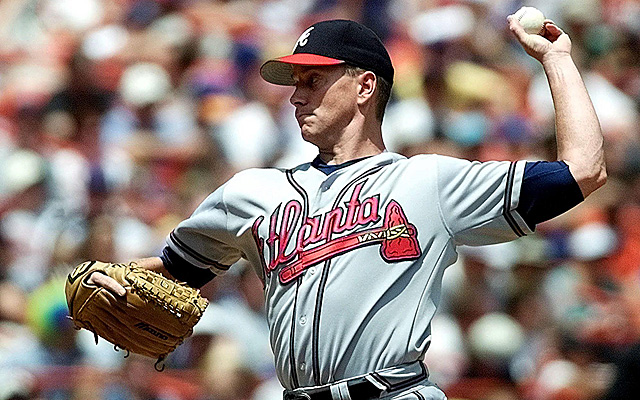 Hall of Fame cases: Luis Gonzalez | Moises Alou | Lee Smith | Fred McGriff | Don Mattingly | Jack Morris | Rafael Palmeiro | Sammy Sosa | Edgar Martinez | Jeff Kent | Alan Trammell | Larry Walker | Mark McGwire
Onward we march in breaking down each Hall of Fame candidate on this year's ballot ahead of the Jan. 8 announcement. The latest entry is a guy who will likely get in at some point, even if it's not this time around: Tom Glavine.
As a quick refresher -- and those familiar with this series should skip this paragraph -- what we're doing is making the cases both for and against induction for players on the ballot. From there, it's up to you to decide if the argument for or against induction is stronger.
On to Mr. Glavine.
THE BARE ESSENTIALS
In a 22-year career, the left-hander went 305-203 with a 3.54 ERA (118 ERA+), 1.31 WHIP and 2607 strikeouts, 1500 walks, 56 complete games and 25 shutouts. In 682 starts, he worked 4413 1/3 innings.
A 10-time All-Star, Glavine won two Cy Youngs and finished in the top three of Cy Young voting six times.
Having played for the Braves through most of their NL East division championship streak, Glavine obviously had the chance to rack up tons of postseason experience. Actually, it was just about the same as one full regular season. In 35 playoff starts, he was 14-16 with a 3.30 ERA, 1.27 WHIP and 143 strikeouts in 218 1/3 innings. He pitched in five World Series and won one ring (1995). In winning that ring, Glavine took home the World Series MVP, as he was 2-0 with a 1.29 ERA in two starts.
THE CASE FOR INDUCTION
For many, Glavine is an obvious yes because of his 305 career wins. No further discussion is needed, this group will say.
This is because only 24 pitchers in baseball history have won at least 300 games in their respective careers and all but four are in the Hall of Fame. The ones who aren't? Greg Maddux, Randy Johnson, Roger Clemens and Glavine. Maddux and Johnson should cruise into Cooperstown with ease and Clemens would have already been in if not for many deciding his connections to PEDs are worthy of exclusion.
So, it would seem that this is Glavine's ticket into Cooperstown.
The wins aren't, however, Glavine's only credential here. Note again the six top-three finishes in Cy Young voting, which points to an elite hurler.
Glavine's durability and longevity were also Hall-worthy. From 1988-2007 -- yes, a span of a whopping 20 seasons -- Glavine averaged 33 starts and 215 innings pitched per season. Keep in mind, that includes 1994-95, when the strike shortened both seasons. He led the majors in starts six times and was in the top 10 of NL innings pitched 12 times.
He ranks 30th in career innings pitched and 12th in career games started.
Put simply: This was a guy whose team could count on him to take the ball every fifth day and keep the pressure off the bullpen.
Glavine also ranks 24th in career strikeouts, 59th in WAR overall and 28th for WAR among pitchers.
We also can't forget about Glavine being heralded as a non-PED guy who had to face juiced up hitters through much of his prime. This obviously will help his case among voters.
Finally, Glavine was well-rounded enough to win four Silver Sluggers. He hit over .200 nine different seasons in his career, which is outstanding for a pitcher.
THE CASE AGAINST INDUCTION
Did he only rack up those wins just because he played for so long, was never hurt, and played for so many great teams? It's a possible argument against, considering that Glavine's ERA, ERA+ and WHIP aren't all that impressive.
As a point of comparison, Glavine's 118 ERA+ (152nd all-time) is tied with the likes of Hiroki Kuroda, Paul Quantrill, C.J. Wilson and Rick Aguilera (of course, it's also tied with Hall of Famer Bert Blyleven).
Glavine also wasn't a dominant pitcher in terms of strikeouts, as he only averaged 5.3 K/9 throughout his career, leading him to a very underwhelming 1.74 K/BB rate.
Along these lines, it could be argued Glavine was a compiler instead of an elite ace, given that he is 12th in career starts, but 21st in wins and 24th in strikeouts.
---
Given the BBWAA voting history on 300-game winners and the fact that Glavine hasn't credibly been linked to any PED connection whatsoever, he'll surely get in at some point. Will it be this time around? It's possible he'll have to wait, given the crowded ballot.
Then again, it's only going to get more crowded. This one will be interesting.
How should the Astros play it when one of their two aces isn't on the mound against the Do...

The former big-league infielder also worked as GM of the Puerto Rico national team

The Indians pitching coach would be getting his first MLB managerial job
In the last several years, lots of droughts have ended in MLB

The most likely scenarios are Dodgers winning in five or six games

Despite a seven-game ALCS, the Houston rotation lines up nicely for the World Series