Cardinals vs. Dodgers NLCS: Who has the edge?
Two classic franchises will do battle for the pennant. Will St. Louis or L.A. prevail in the end? Here's an educated guess.
by

Eye on Baseball staff

• 5 min read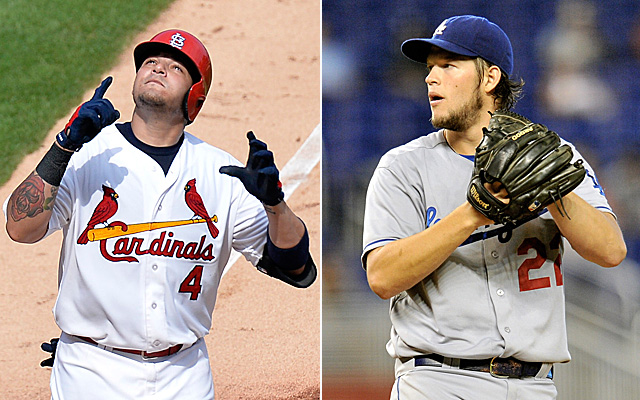 The Dodgers topped the Braves in four, and the Cardinals edged the Pirates in the full five games. Now those two teams will match wits, bats, arms and gloves for the 2013 National League pennant. 
Speaking of pennants, these two classic and august franchises have between them 38 pennants and 17 World Series titles. So there's plenty of history underpinning this encounter. 
And now let's get down to previewing what figures to be a hotly contested NLCS. As always, we're breaking this down position-by-position and role-by-role in order to arrive at a favorite ... 
Catcher: Yadier Molina vs. A.J. Ellis 

Not much of an argument here. Molina is the best all-around catcher in the game and he's a legitimate NL MVP candidate. He also did some damage in the NLDS against the Pirates. Ellis is underrated and he had great NLDS (.967 OPS), but it's obvious which team has the better backstop in this series.
First base:  Matt Adams vs. Adrian Gonzalez

Losing Allen Craig to a foot/ankle injury was a real big blow to St. Louis. Adams is a good hitter with some big power, but he's not Craig. Few are. Gonzalez is a "so good he's boring" player; a guy who just consistently produces and is a threat to do something every time he steps in the box. The power he showed in his Padres days is gone, but he's still dangerous. He also gets the defensive nod over Adams.
Second base: Matt Carpenter vs. Mark Ellis

Despite a dreadful NLDS showing, Carpenter was one of the two or three best second basemen in baseball this season. He was so bad against the Pirates that he has almost no choice but the improve. Ellis is OK. That's about it. Carpenter was too good this summer to think he just forgot how to hit.
Shortstop: Pete Kozma vs. Hanley Ramirez

This is the most lopsided position battle in the series. Hanley was a monster (when healthy) in the regular season (1.040 OPS) and that carried over into the NLDS (1.618 OPS). He has been one of the very best players in the world in 2013. There's just no comparison here. Komza can pick in the field, but he was perhaps the worst-hitting regular in baseball this season.
Third base:David Freese vs. Juan Uribe

Freese was the NLCS and World Series MVP just two seasons ago, but he has not been that player this year (regular season or postseason). Not even close. His power seems to have completely vanished. Uribe, on the other hand, had a really good bounce-back year and he sent the Dodgers to NLCS with his clutch eighth-inning homer in Game 4. This was inconceivable as recently as spring training, but there's no doubt he's the best hitting and defending third basemen in the series.
Left field: Matt Holliday vs. Carl Crawford

After hitting six home runs in the regular season and two after April 28, Crawford went deep three times in the NLDS and looked very much like the two-way terror he was during his (Devil) Rays days. I wouldn't expect the power production to keep up, but he's dangerous. Holliday has been surprisingly mediocre in the playoffs during his time in St. Louis, but he did hit that huge game-winning homer in NLDS Game 4. He's a liability on defense but a brute masher at the plate.
Center Field: Jon Jay vs. Skip Schumaker

The wild card here is Andre Ethier. If he and his painful left ankle are cleared to do more than pinch-hit in the series, he'll man center field and relegate Schumaker to the bench. Until Ethier gets that clearance, we have to assume it'll be Schumaker in center for the entirety of the NLCS. Even a hobbled Ethier gives the Dodgers an advantage in the series. But if it's Schumaker vs. Jay ... eh.  
Right Field: Carlos Beltran vs. Yasiel Puig

Remember when Puig's recklessness was going to cost the Dodgers a playoff game? It didn't happen in the NLDS -- he mashed (1.029 OPS) -- but I suppose it could still happen in the future. Until it does, he'll continue to win them games with his bat, glove and arm. Beltran, meanwhile, is arguably the greatest postseason hitter of his generation.
Bench

The Cardinals' bench is compromised by the loss of Craig, which has forced Adams -- normally the best bench bat in baseball -- into the starting lineup. There's positional flexibility within the Cardinals' reserve corps, but little in the way of impact hitters. The Dodgers are a little better off with Scott Van Slyke and Michael Young on the roster. 
Starting rotation: Adam Wainwright, Michael Wacha, Lance Lynn, Joe Kelly, Shelby Miller vs. Clayton Kershaw, Zack Greinke, Hyun-Jin Ryu and Ricky Nolasco 

There's no shame in the Cardinals' rotation by any means, but, well, only the Tigers can best LA's rotation. Keep in mind that Kershaw should be able to start Games 2 and 6 on full rest, while Wainwright would line up to start Games 3 and 7 on full rest. All of that assumes the NLCS goes that long, of course. If Wacha continues pitching as he has since the start of September, then this one's a little closer than you might think. 
Bullpen: Trevor Rosenthal, John Axford, Kevin Siegrist, Carlos Martinez, Randy Choate, Seth Maness and Edward Mujica vs.  Kenley Jansen, Brian Wilson, Paco Rodriguez, Ronald Belisario, J.P. Howell, Chris Withrow and Chris Capuano 

These are two good bullpens, but it's the Cardinals' depth from the right side that gives them the slight edge. You'll rarely see nastier stuff from a lefty reliever than you will from Siegrist. 
Defense

In terms of Defensive Efficiency Rating, the percentage of balls in play that a defense converts into outs, the two teams were almost equal -- both below the league average separated by a tenth of a percentage point. So give the narrow edge to the Cardinals because of Molina's chops behind the plate. 
Prediction
It bears repeating: This has the makings of memorable series with two great teams and two well-matched rosters. We'll say the Cardinals win in it the full seven games. Instant classic. 
It's almost that time of the year again, time for the Tebow madness to return

Walker was a tremendous all-around player, but Coors Field undoubtedly inflated his career...

A beardless Wilson says that he tried to outrun the police on the second day he had his driver's...
The Diamondbacks outfielder was not impaired, he was just going way too fast

MLB can unilaterally implement rule changes, which will also include limits on mound visit...

If the MLBPA wants to repair MLB's salary structure, it should push for more money for young...