Clayton Kershaw is the best pitcher in baseball and he's still getting better
Believe it or not, Dodgers left-hander Clayton Kershaw is in the middle of the best season of his career.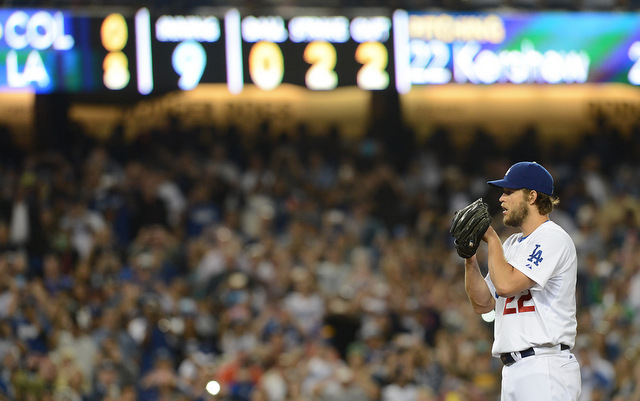 More MLB: Power Rankings | Expert Picks | Latest news & notes | Fantasy news
On Tuesday night, Dodgers lefty Clayton Kershaw threw eight shutout innings against the Royals to lower his ERA to 2.24. In the start before that, he threw a stress-free no-hitter against a good-hitting Rockies team. It was one of the best pitching performances in history. While the no-hitter is surely special, dominant performances have become the norm for the southpaw from Dallas.
Kershaw already owns two NL Cy Young Awards plus one second place finish in the voting even though he just turned 26 in March. He's also been to three All-Star Games and received the richest pitching contract in baseball history. At an age when many people are just starting to establish themselves in the workforce, Kershaw is at the top of his field.
Kershaw opened the season on the disabled list with a minor back problem -- well, technically he pitched Opening Day in Australia, then got hurt -- but returned to the team in May and has been better than he's ever been before. Yes, right now Kershaw is in the middle of the best season of his career. You won't see it in his ERA (it was lower last season) or win total (won 21 games in 2011), but it's happening. Look:
2008-14 Performance: Clayton Kershaw
Season
Strikeout Rate
Walk Rate
Ground Ball Rate
O-Swing%
2008
21.3%
11.1%
48.0%
26.4%
2009
26.4%
13.0%
39.4%
26.6%
2010
25.0%
9.6%
40.1%
26.3%
2011
27.2%
5.9%
43.2%
31.8%
2012
25.4%
7.0%
46.9%
30.2%
2013
25.6%
5.7%
46.0%
33.1%
2014
33.6%
3.2%
61.4%
37.8%
On a rate basis, Kershaw is striking out a career-high number of hitters, walking a career-low number of hitters, and getting a career-high number of ground balls. He is also getting hitters to chase more pitches out of the strike zone (O-Swing%) than ever before.
The name of the game is preventing runs, and if you're keeping runs off the board it doesn't really matter how you do it. Striking out a ton of batters, walking no one and keeping the ball on the ground is an excellent way to prevent runs though, the very best way, and right now Kershaw is excelling at all of those things. This is a guy who brought outstanding stuff to the table earlier in his career. Now he has that same outstanding stuff and knows how to best use it thanks to experience.
Jose Fernandez made a run at the title of "Best Pitcher in Baseball" before he blew out his elbow. Masahiro Tanaka is the shiny new toy and Felix Hernandez is never not amazing. Those three and several others are truly outstanding. But they are not Kershaw. Kershaw is the ace of aces and elite at everything he does. He's not a flash in the pan. He's a historically great player on the Hall of Fame track who is showing this season that he has not yet peaked.
The Twins have been rumored to be interested in Darvish all winter

Rolen is one of the best third basemen of all time, but you wouldn't know it based on this...

Neither Josh Donaldson nor Brian Dozier have talked about a new contract extension
Francisco leads the Dominican Winter League with seven home runs

Thome deserves enshrinement and here's why the case against him does not hold up

The Twins have already fortified the bullpen with Addison Reed, and now they want to address...