Could Nats emerge as contender to favored Pirates for A.J. Burnett?
Washington is known for late moves, and might hold an allure for pitcher A.J. Burnett -- though Pittsburgh is the logical favorite.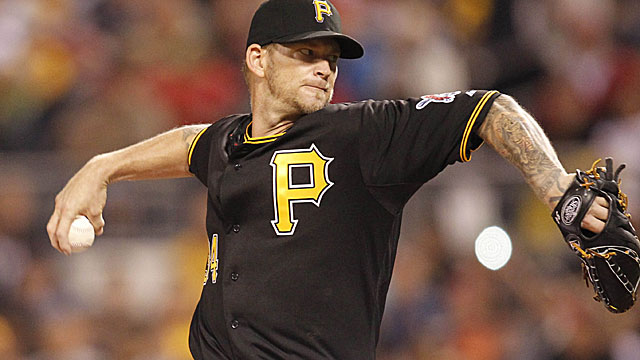 If someone's going to steal A.J. Burnett away from his beloved Pirates, could it be the Washington Nationals?
Speculation is going around baseball circles that the Nats could consider a late play for the talented Burnett at a time some other would-be contenders seem to be fading away.
The Pirates rightly should have always been considered the favorite to land Burnett, considering how well that marriage has worked since he came over from New York. And with chances for the Orioles and Phillies reportedly diminishing, the Nats are seen as a team that could emerge as a possibility.
Though a person with a Nats connection suggested they'd "most likely" stick with their current rotation unless a "value" materialized, Washington should never be counted out of the mix for another starting pitcher. As Adam Kilgore of the Washington Post pointed out recently, the Nats are known for making late-winter acquisitions. Washington also isn't too far from Burnett's offseason home in Monkton, Md., and may hold an allure as a National League team, like the Pirates.
Burnett certainly sounded like he has an especially warm spot for Pittsburgh when he suggested to 93.7 The Fan in Pittsburgh in October that it'd be either the Pirates or retirement for him, saying of Pittsburgh, "The city took me in, they took me in more than any city has in my whole career, before I even got here, and that was special to me. Without a doubt, I'd love to be a Pittsburgh Pirate."
Burnett was weighing retirement before deciding several days ago that he would indeed come back to play, making no guarantees it'd be Pittsburgh at that time. Comcast Philadelphia reported recently it's unlikely the Phillies will sign Burnett, and MASN reported it's not likely the Orioles sign him. Philly and Baltimore have been viewed as two of the prime competitors to the Pirates.
The Pirates declined to extend a $14.1-million qualifying offer to Burnett, meaning there is no draft choice attached if he signs elsewhere. The Nationals have Ross Detwiler as their No. 5 starter, but it's possible he could be moved to the bullpen; the Nats have been seeking a lefty for their pen.
Burnett emerged as a leader in the Pirates clubhouse last year, resurrecting his image after a tough time in New York while also putting together a very good season on the mound. Burnett was 10-11 but he had a 3.30 ERA and the best strikeout rate among National League starters.
Gallardo spent the first eight years of his career in Milwaukee

MLB revenues are at a record high right now, but teams aren't spending it on players

Chicago added Tyler Chatwood earlier this offseason but might not be done adding to the ro...
The Dodgers and Braves pulled off a whopper on Saturday

Sabathia will reportedly spend a 10th season in the Bronx

Fowler suffered a knee injury at Chicago's Guaranteed Rate Field