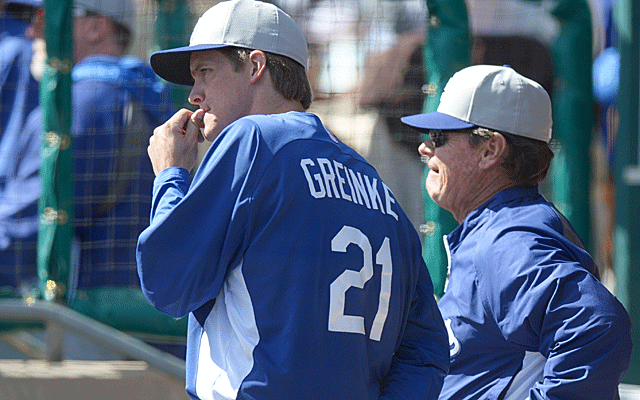 Zach Greinke combined to go 15-5 with a 3.48 ERA last season with the Brewers and Angels.
(USATSI)
GLENDALE, Ariz. -- The Dodgers' newest marquee man Zack Greinke may not be quite the best pitcher in baseball (he isn't, as he readily admits). But he is almost surely the most honest person in the game.
Or anywhere else, for that matter.
Doesn't have it in him to lie. Just can't do it.
He tells you flat out his free agency was about the money, first and foremost. Others claim it isn't, but they're fibbing. Greinke is incapable.
"If I lie I forget what I said the first time. I won't remember the lie. I don't know how people do it," Greinke said.
Good for Greinke.
Clubhouses are no different from other workplaces, where BS often reigns. Greinke's locker is a BS-free zone. No spin there. That's saved for his pitches.
Greinke, who got a $147-million, six-year Dodgers deal, is "well spoken, insightful, unfiltered," general manager Ned Colletti said.
Exactly right. Especially the unfiltered part.
Greinke reads everything, hears everything and seemingly knows everything. He wants the record straight, and he works at keeping it that way.
And money in free agency, to him, was no small thing.
"It's obviously the No. 1 thing," Greinke said. "I could play for the worst team if they paid the most. ... If the last-place team offers $200 million and the first-place team offers $10, I'm going to go for the $200-million no matter what team it was." (Greinke did make clear that while money was the No. 1 thing, it wasn't the only thing, so he wasn't going to go somewhere he thought was worse for a million or two more.)
Greinke could have tried being a bit less honest because the last two teams in the bidding --the Dodgers and Rangers -- made final offers that were said by two different people in the know to have been either "similar" or "very close." (That was one topic Greinke wouldn't touch, presumably out of fairness to the losing final bidder, saying only of his final call that "it was a tough decision.")
Greinke could easily have mentioned all the other things he liked about the Dodgers, and suggested that those other things were the main reasons he went to LA, or at least the deciding factors or tiebreakers He did cite several great things about the Dodgers, from the history, to their chances to win in the near term, to the experience of the coaching staff, to their league (what's not to like, right?). But he didn't pretend they were the main reasons he went to L.A.
And good for him.
Because it was soon learned from other sources that Greinke gave the Rangers a chance to win his services, presenting them with an offer to become a Texas Ranger if they met it. (That was another rare subject Greinke didn't want to touch.)
It isn't known what Greinke's offer to the Rangers was but can be presumed to be higher than the deal he ultimately made, considering he admitted money was the first factor. In any case, ultimately the Rangers decided not to meet his price but rather countered it.
In the end the two teams were in a near-dead heat on the main terms of the offers, according to those two sources, or at least "very close." Taxes would be a bit less with the Rangers, but Greinke's primary residence was to remain Winter Park, Fla., so that discrepancy wasn't a much as some might have speculated.
In the end, the real differences may have been that the Rangers didn't offer the three-year opt-out clause (which is ultimately about the money), and they couldn't offer the National League, which Greinke much prefers.
"It's boring watching American League games to me," Greinke said. "With the Angels we had [Mike] Trout, [Albert] Pujols, [Mark] Trumbo, [Kendrys] Morales and [Torii] Hunter, but it wasn't as much fun as watching Milwaukee's team. There's much more strategy. I don't know anyone who likes the American League games better. Maybe some fans do. But if you're not an actual DH, you probably prefer the National League."
One thing that didn't play into it, as it turned out, was the ability to hit with the Dodgers. He is known to enjoy hitting but found that as a Brewer it wasn't quite as vital.
"Once I went to Milwaukee, it wasn't as great," Greinke said. "I found my goal wasn't to pitch a good game and get a couple hits, it was to pitch a good game."
The one negative to going to LA is that it's a long trip for his folks back in the Orlando area. Other than that, not a thing.
Greinke, who went 15-5 with a 3.48 ERA in 2012 between Milwaukee and Los Angeles/Anaheim, had nice meetings with both teams. He met in Orlando with Rangers GM Jon Daniels plus pitching coach Mike Maddux and executives A.J. Preller and Don Welke. He met in L.A. with Dodgers president Stan Kasten, Colletti and manager Don Mattingly.
The Dodgers were surprised he showed only with an open mind (and not even agent Casey Close). But Greinke said he found he did all the talking at the Rangers meeting and didn't want to waste agent Casey Close's time again. (Somehow, I think Close would have forgiven him.)
Could be Greinke was enjoying the process too much to share it. He didn't take the Nationals' $100-million offer a few years back that would have come with a trade there partly because he didn't think Washington was ready to win. While he has had a pang of regret since the Nationals became a power, he also turned it down because he was looking forward to the free-agent process.
"I wanted to see it. If it was going to be only one year for $1 million, I wanted to see for myself," he said.
Greinke was like a kid with a thousand questions for everyone at the two key meetings. At the Rangers meeting, he was said to have told them Adrian Beltre was maybe his favorite player. He also loved the Rangers' plan, their philosophy and their young core.
The Dodgers meeting was scheduled an hour and half and took 3½ hours.
He wanted to know all about the direction of the team. He could have kept going for hours. Finally, one or more of the L.A. people had to go to their next meeting.
He loves the history of the Dodgers. But he was intrigued by the chance to help the Rangers win their first title after two World Series appearances.
"I liked both organizations," said Greinke in a comment that might sound like puffery coming from someone else. Not him, though.
He notes when he hears bs from another player, and he disapproves.
Good for him.
"The worst comment in the world has got to be when a guy who's getting $100 million says he wants to 'take care of my family,' " Greinke said. Of course, nobody needs $100 million, or even half that, to keep their family going.
I agreed, but added that I always found more absurd the one where a very rich player says he was agreeing to extend an already rich deal by saying he wanted "security." Someone who has already banked tens of millions is already secure, unless he's such a numbskull to have spent it all already.
You'll never hear anything like that from Greinke, who only tries to deceive when on the mound.