Hall of Famer Johnny Bench calls out Bryce Harper for bat flips
Hall of Famer Johnny Bench, arguably the greatest catcher in history, called out Bryce Harper for his bat flips during a recent radio interview.
Two weeks ago, Hall of Famer Goose Gossage called Jose Bautista a "f---ing disgrace to the game" because of his bat flips and antics on the field. Gossage also ripped "nerds" in the front office, instant replay, and other modern baseball amenities.
Another Hall of Famer got in on act of calling out current players Monday. Hall of Famer Johnny Bench, arguably the greatest catcher in history, bashed Nationals wunderkind Bryce Harper during an interview on The Rich Eisen Show. Randy Miller of NJ.com has a transcript:
"You can flip your bat. We had guys do that ... and the next time up there was chin music. And if you want to play that way, that's fine.

"Bring back the excitement? OK, we'll bring back the brushback pitch, the knockdown pitch. That's all part of the excitement."

...

"I know a lot of the old-timers and a lot of people who watched baseball forever would love to see somebody have a little chin music (as retaliation)," Bench said. "If you want to do that, fine. Flip the bat, run around any way you want, but just expect the next time you come up to the plate, you better watching how much you dig into that batter's box."
Harper, as you may recall, called baseball a "tired sport" recently because players are not allowed to express themselves without being vilified. Gossage and now Bench have done a good job validating Harper's statement.
Look, Gossage and Bench are allowed to have their opinions. Back when they played, bat flips were seen as extremely disrespectful and often resulted in a fastball to the ribs. That was a long time ago though. The game has evolved. It will always be evolving.
Harper was the best player on the planet last season and he had the audacity to speak his mind about baseball being a "tired sport," an opinion a lot of folks seem to agree with. No bat flips? No showmanship? People seem to forget this is in the entertainment business.
No sport clutches its pearls quite like baseball.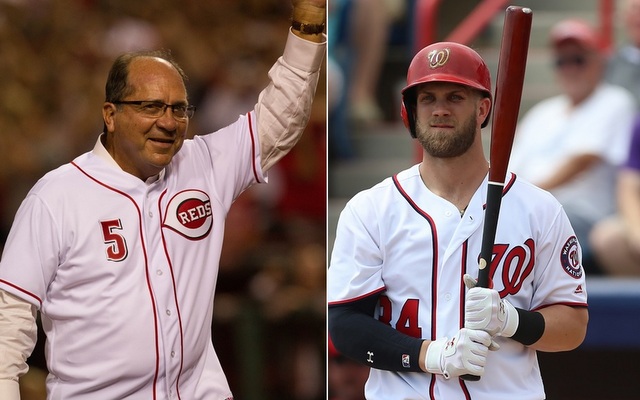 Outfield prospect Clint Frazier may be part of the talks

Boston wants to add two big bats to their lineup, not just one

Even more relievers signed on the final day of the Winter Meetings
Keep tabs on the top 50 free agents right here

The league is not happy Ohtani's medical information leaked

Kansas City and Baltimore were quite busy at the Rule 5 Draft