In fifth attempt, Max Scherzer finally wins 20th game of 2013
It took five attempts, but Tigers right-hander Max Scherzer has finally become baseball's first 20-game winner this season.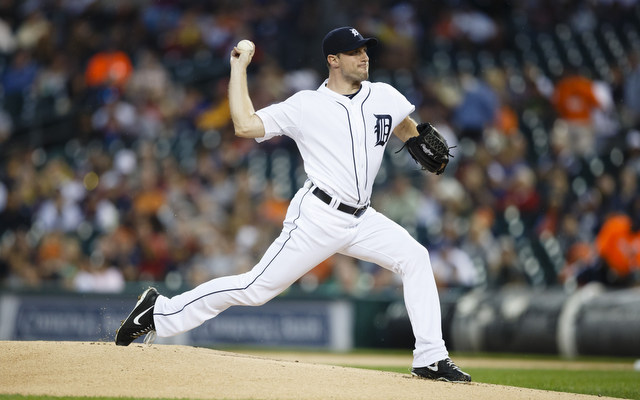 Knobler: Scherzer had help, but also earned chance at 20-win season
Thanks to a 12-5 win over the White Sox on Friday night, Tigers right-hander Max Scherzer became the first 20-game winner in baseball this season. It was his fifth attempt at the round-number milestone.
Scherzer, 29, improved to 20-3 on the year. He allowed three runs on six hits and one walk in six innings while striking out three. A solid outing but not truly dominant. He didn't need to be given the run support. Scherzer raised his season ERA to an even 3.00, and he came into Friday leading the league with a 0.96 WHIP.
Justin Verlander won 24 games en route to being named the AL MVP and Cy Young Award winner in 2011, but prior to that the Tigers had not had a 20-game winner since Bill Gullickson in 1991. Scherzer is the 24th different pitcher in franchise history to have a 20-win season. Here's the list.
Nationals right-hander Jordan Zimmermann won his 19th game of the season on Friday night. Adam Wainwright and C.J. Wilson both have 17 wins and four others have 16 wins. With only 10 days left in the regular season, it doesn't look like Scherzer will get much (if any) company in the 20-win club.
Scherzer is the favorite to win the AL Cy Young Award this year, and not just because of his gaudy win-loss record. He's been outstanding by any measure.
They still would much rather grab the AL East, however

Sale becomes the first AL pitcher to reach 300 strikeouts since 1999

Steve Balboni's long-standing record of 36 has finally fallen
Several players called for the netting to be extended down the base lines following Wednesday's...

Maria made landfall as a Category 4 on Wednesday

The players are trying to do their job and don't want to see anyone hurt