Lack of power has been Royals' undoing so far
The Royals have been a disappointment thus far in 2014. What's to blame? Look no further than the lack of power bats in the lineup.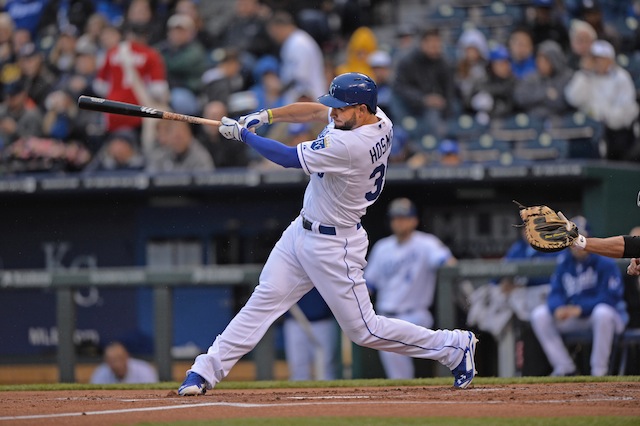 More MLB: Power Rankings | Expert Picks | Latest news & notes | Fantasy news
The Royals hit a home run on Wednesday. Sure, they lost to the lowly Astros by a score of 9-3 and in doing so were swept at home by those same lowly Astros. But they hit a home run. For this team, this year, that's notable. 
You see, after Wednesday night's homer by Brett Hayes, the Royals now have 10 homers for the month of May, or four fewer than Edwin Encarnacion. They now have 21 for the year, or two more than Nelson Cruz. To put a finer point on it, the Royals are on pace to hit 65 homers this season, which would be the lowest team total since the 1986 Cardinals hit 58 over the course of a full season. To put a finer, finer point on it, Mike Moustakas, who was (quite understandably) optioned back to Triple-A on May 20 after batting .152/.223/.320), still shares the team lead in home runs. With four. 
That's really what's at the heart of the Royals' heretofore disappointing 2014 season: a lack of power up and down the lineup. Coming off an 86-win campaign in 2013, the Royals were reasonably thought to be contenders this year. However, after Wednesday night's loss, their FanGraphs playoff odds dropped to 11 percent. Obviously, we're not yet a third of the way into the season, so there's plenty of time for KC to reverse course. But do you know what they need more of in order to climb the standings? Power!
The oddity is that the Royals have been excellent at making contact thus far, as they have the lowest strikeout percentage of any team in baseball. However, the quality of contact has obviously been lacking. On that front, the Royals rank last in the majors in slugging percentage and last in the majors in Isolated Power. As well, they rank last in home runs as a percentage of fly balls, and they have the highest groundball percentage in the AL. Need more? They've also hit the highest percentage of infield pop-ups, and they rank 28th in line drive percentage (there's some imprecision to measuring line drive rates, but it's still somewhat illuminating).
Very simply, this is a team that's been baseball's worst when it comes to squaring up on the ball. When you don't "barrel" the ball, it doesn't matter that you make contact at a high rate. Soft contact is all too often harmless contact. 
As you may have guessed by now, one of the Royals' underlying problems is a lack of production on the few fly balls they do hit. The entire American League this season is batting .170 AVG/.165 OBP/.482 SLG on fly balls, while the 2014 Royals are hitting .108/.105/.261 on fly balls. That's a big production deficit, particularly in terms of -- you guessed it -- power. There's likely some bad luck baked into those numbers, but there's mostly a lack of skill and execution. 
As prescriptions go, "hit the ball harder" is as obvious as it is easier said than done. However, that's precisely what the Royals must do if they're going to meet expectations this season. 
The Red Sox and Cardinals are expected to make trade offers next

The free agent first baseman may be a fit in St. Louis

The front office changes in Atlanta continue
The Marlins are more likely than you think on our list

Judge finished a distant second in the balloting and he paid respect to the winner

Stanton just won the 2017 NL MVP award but could wind up being dealt this offseason