Marlins hitting coach Tino Martinez resigns amid abuse claims
Tino Martinez has allegedly verbally and at least once physically abused Marlins hitters. He's now resigned from his position as hitting coach.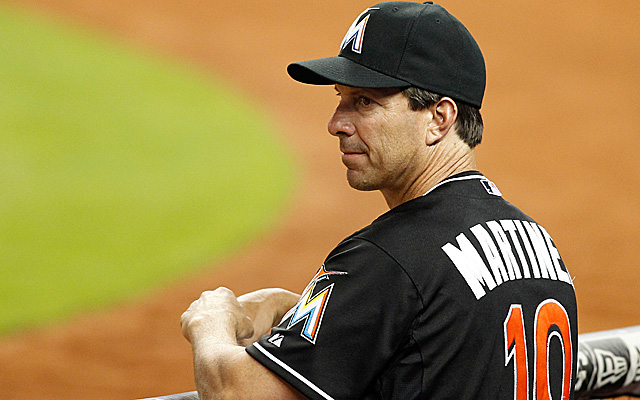 More MLB: Scoreboard | Standings | Probable Pitchers | Sortable Stats | Odds
Marlins hitting coach Tino Martinez resigned Sunday amid allegations he abused a player according to the Associated Press. 
The club has announced that John Pierson is the interim hitting coach. He'll join the club Monday.
But the big news is obviously Martinez stepping down.
"I want to apologize to the Marlins organization for my behavior," Martinez said (AP). "I have made some comments to certain players at certain times that I thought was more constructive criticism. Obviously, they didn't feel that way, and it kind of backfired on me."
Rookie Derek Dietrich -- who has since been sent to the minors -- is among Marlins players claiming intimidation and abuse by Martinez. The second baseman said Martinez "erupted in anger unjustly and grabbed him by his neck and neck chain," according to an earlier Miami Herald report. Martinez has admitted that he once touched a player in anger, saying he grabbed Dietrich by the jersey earlier this season.
Other team members allege Martinez, who'd never coached before this season, when he was hand-picked by owner Jeffrey Loria to be a part of new manager Mike Redmond's staff, had been verbally abusive on numerous occasions since spring training started in February.
Loria initially urged Martinez not to resign, but when the story became public, the move was made.
One player, speaking anonymously, told the paper, "It's all shocked everybody. ... He uses intimidation. It's been a problem since day one."
More on the issue, via miamiherald.com:
Dietrich's agent, David Meter, would neither confirm nor deny that the incident took place.

"I'd rather not address it," Meter said. "I think it's a team issue."

A team official refused to say whether the club is looking into the matter.

"I'm sure if there is an issue, it will be addressed," said Marlins spokesman P.J. Loyello.

The Major League Baseball Players' Association was notified of the alleged incident, as well as others involving Martinez, and the union then contacted the Commisioner's office. That office is expected to contact the Marlins on Tuesday to see how the matter is being resolved, sources said.

Martinez and manager Mike Redmond weren't on the field at the start of batting practice before Friday's game. Instead, two sources said they were meeting privately with Marlins front office executives to discuss the allegation.

...

According to sources who have witnessed Martinez's profanity-laced eruptions, other players who have been attacked verbally by Martinez include outfielder Justin Ruggiano, infielder Chris Valaika and minor-league infielder Matt Downs. Another source said the list of players is much larger than that.
Additionally, Danny Knobler is CBSSports.com hears that there are five separate cases against Martinez and the Sun Sentinel reports that Martinez and Redmond were "at odds."
A two-time All-Star, Martinez, 45, retired from baseball in 2005 after an admirable 16-year career spent mostly with the Yankees and Mariners. His general reputation is that of a nice guy, so the above report is pretty surprising.
"I just thought with some young players you needed to be a little firmer and try to get them on the right track," he said (AP). "I probably used some four-letter words. I thought I was doing the right thing. Obviously, I wasn't."
As for coaching again, he's not sure.
"I don't know long term how it's going to affect me," he said (AP). "Right now I'm disappointed in myself. I'm embarrassed. Right now I'm not worried about the future. I just want to make sure my family is OK."
The free-agent market has been slow and one player is bracing for an even longer wait

The Mets didn't want to trade a young outfielder for an older one

Josh Harrison doesn't sound pleased Gerrit Cole and Andrew McCutchen have been traded away
The team's media contracts expire following the 2019 season

San Francisco could use more help in the outfield and at the back of the rotation

The White Sox, Athletics, Orioles and Marlins are the holdouts after the Blue Jays and Angels...