No walks yet for Jayson Werth (but that's a good thing)
Jayson Werth has yet to draw a walk this season, but his manager realizes what a good sign that is. Davey Johnson said the lack of walks shows that Werth is being more aggressive, and that shows that the wrist he injured last season is now back to full strength.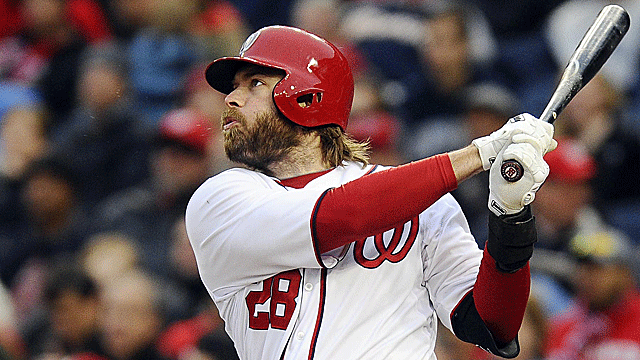 WASHINGTON -- Jayson Werth's on-base percentage is down. His manager doesn't care.
Seven games into the season, Werth is seeing fewer pitches per plate appearance than usual. Davey Johnson says that's the good news.
"That tells me he's swinging more aggressively," the Nationals manager said. "And that tells me his wrist is feeling good."
In fact, Johnson said, when he looked up at the scoreboard Tuesday night and saw that Werth's batting average was the same as his on-base percentage, he smiled. You can bet he also smiled when Werth's final two plate appearances Tuesday resulted in a home run, a single and three RBI, helping the Nationals beat the White Sox 8-7.
Pretty good logic from the 70-year-old manager. If Werth wants to swing the bat, it means he must feel good. If he feels good, he's going to be more productive.
"He'll get his walks," Johnson said.
Werth annually ranks among the major-league leaders in pitches seen. He's actually not that far off the lead this year, even though his numbers are down from 4.37 per plate appearance last season to 3.89 through seven games this year.
Small sample size, you know. And in this case, whatever meaning it has is good, because of what it shows.
"I think I have been more aggressive, and usually I'm aggressive when I'm feeling good at the plate," Werth said.
Werth would rather not relate it directly to the wrist, but Johnson (and anyone else) can easily see a correlation here. Werth's wrist injury cost him three months of the season, and he hit only two home runs in 54 games when he returned (plus one very dramatic home run in the playoffs).
His home run Tuesday was his third in seven games this season. His power is back. His wrist is obviously healthy.
His numbers show it. He'll see more pitches eventually, and he'll walk eventually, but for now, know that the lack of walks is actually a good sign.
His manager knows it.
Sunday's MLB roundup features the D-Backs clinching a postseason spot and the Mariners going...

The 2017 season has been, by far, the worst season of Cabrera's career

The Mariners were eliminated from postseason contention with Sunday's loss
Maxwell became the first MLB player to kneel during the national anthem Saturday

The Blue Jays are not expected to bring Bautista back next season

The Dodgers have already clinched the NL West title, so the D-Backs will be a wild card te...