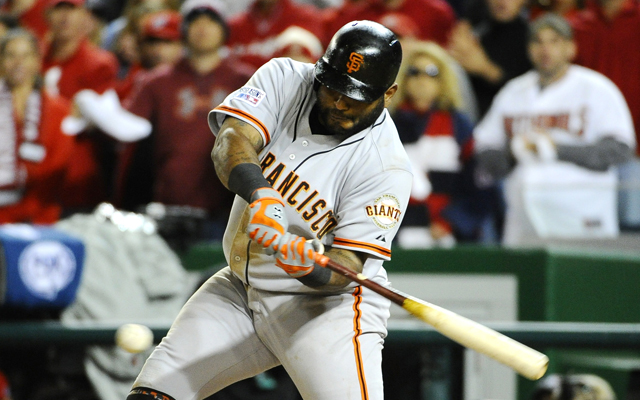 What started out as a thrilling pitchers' duel devolved into a seemingly never-ending run of weak grounders and fly balls that looked gone off the bat only to be caught well short of the warning track. The Giants and Nationals played the longest postseason game in baseball history on Saturday night, with San Francisco eventually walking away with 2-1 win in 18th the inning.
Some quick length-of-game facts:
5th playoff game to go 15+ innings. Joins: 2005 NLDS G4 ATL-HOU 18 1986 NLCS G6 NYM-HOU 16 1995 ALDS G2 SEA-NYY 15 1999 NLCS G5 ATL-NYM 15

— James Smyth (@JamesSmyth621) October 5, 2014
Two games in MLB postseason history lasted longer than 16 innings. Tim Hudson started both of them.

— Andrew Baggarly (@CSNBaggs) October 5, 2014
Since this game lasted the full 18 innings, it is indeed the longest postseason game in history, barely edging out that Braves-Astros marathon in 2005. That game ended on Chris Burke's walk-off home run with one out in the 18th. At six hours and 34 minutes, this was also the longest postseason game in history by time. Time to break down the Giants' tenth straight postseason win.
Hero: It was supposed to be Jordan Zimmermann, who came within one out of a shutout before being lifted. He was brilliant all night, allowing just three singles and one walk. The run charged to him was an inherited runner that came across with Drew Storen on the mound. Storen has now joined a rather unfortunate and exclusive club:
This was the 44th down-to-last-out tying/go-ahead PA in postseason. Pitchers to allow hits twice: Byung-Hyun Kim, Ugueth Urbina, Drew Storen

— James Smyth (@JamesSmyth621) October 5, 2014
Pitcher wins are kind of lame, but it's a damn shame Zimmermann didn't get one in Game 2. He was marvelous.
Instead, the hero is Brandon Belt, who clobbered the go-ahead solo home run off Tanner Roark in the top of the 18th. That mercifully put an end to the continued string of scoreless innings. Roark simply left a pitch up and Belt hammered it into the second deck over the bullpens. He appropriately flipped his bat:
Honorable mention goes to Zimmermann and Anthony Rendon. Rendon had four hits in his first four at-bats (0-for-3 with a walk thereafter) with a stolen base and a run driven in. He had four hits and all other Nationals combined for five hits. Rendon's night was rendered by an afterthought by everything else that happened.
Goat: Nationals manager Matt Williams for yanking Zimmerman with two outs in the ninth. It's possible there's a perfectly valid reason for lifting him that we just aren't privy too, but that decision will be second-guessed for the rest of the series and probably longer.
Yes, Zimmermann had just walked Joe Panik on five pitches, but he was cruising all game -- retired 20 in a row before the walk -- and appeared to have plenty left in the tank. Three of the four balls to Panik missed just off the plate too. Borderline borderline pitches, if you catch my drift.
Anyway, in came Storen, and three pitches later the game was tied on Pablo Sandoval's double into the left field corner. Panik scored and Buster Posey was thrown at home trying to score from first. He nearly beat the throw, but replay confirmed he was out:
Posey's foot is up in the air. He's out. pic.twitter.com/hCEESYebWd

— Cork Gaines (@CorkGaines) October 5, 2014
That is mighty, mighty close. The out at the plate sent the game to extra innings. Fair or not, Williams shoulders the blame for the game having to go that far. Removing Zimmermann is a decision that will second-guessed for a long, long time.
Turning point: Pretty obvious, right? It's Williams lifting Zimmermann and Sandoval's game-tying double off Storen. Maybe Zimmermann would have blown the game himself, but that decision is a pretty obvious turning point in the game. Even with Posey being thrown out at the plate. Everything seemed to be going so smoothly before Zimmermann was lifted.
It was over when: The final out was finally recorded. I would normally say after Belt's homer, but rookie Hunter Strickland came in for the save and he served up back-to-back homers to Bryce Harper and Asdrubal Cabrera in Game 1, so there was a little uneasiness there. But yeah, once the 54th out was recorded, this one was over. The win probability graph does a good job of capturing the drama of the ninth inning and the passing-by of extra innings:

Source: FanGraphs
It just kept going and going and going, then .... #belted
Ejections!: The Nationals' frustration started to boil over in the tenth inning, when Cabrera was ejected for arguing balls and strikes. Well, he argued strikes that he threw were balls but were really strikes. Here's the called strike and subsequent equipment slamming:
Cabrera and the umpire got uncomfortably close during the argument:
#Nats' Asdrubal Cabrera, Matt Williams ejected in 10th inning of Game 2 of NLDS: http://t.co/edIygui4Y3 pic.twitter.com/YyZXbLHpP0

— Marc Lancaster (@MarcLancaster) October 5, 2014
Williams came out of the dugout and was eventually ejected after arguing. It was one of the calmest ejections I can ever remember. Williams and the umpire just talked it out, there was no yelling or hat throwing or anything. Cabrera and Williams became the first player and manager to be ejected in the same postseason game since 2005.
Next: The Giants are up two games to none in the series and the scene now shifts to San Francisco. These two teams will resume their NLDS matchup on Monday evening at a time to be determined. Here is the tentative schedule. The game will be broadcast on MLB Network either way. Madison Bumgarner and Doug Fister will be on the mound.