Red Sox appear to be one big player in the Lee derby
Boston has a lot of great prospects it could deal -- but is it willing?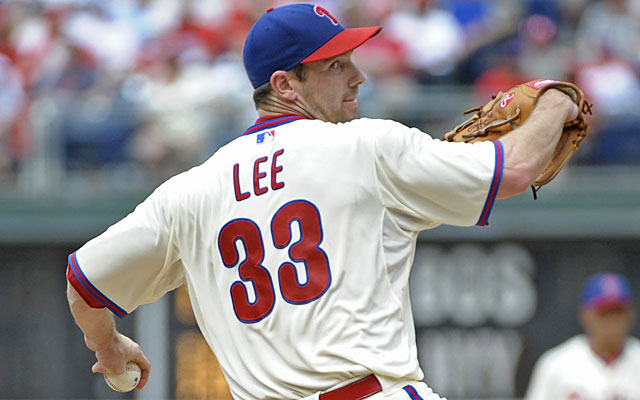 The Red Sox are the biggest player in the Cliff Lee derby, sources told CBSSports.com, but it remains uncertain how likely it is the Phillies star left-hander will be dealt.
If there are other teams heavily involved in talks for Lee, they are doing it in an extremely stealthy manner. But considering the price tag (at least three top prospects) and salary ($70 million), it's understandable the field would be limited.
Word is, the Phillies would be wiulling to throw veteran third baseman Michael Young into a package. Young has a no-trade and seems to prefer to go back to Texas, but it isn't known whether he might OK Boston, as well.
Lee is eminently available now, though the Phillies aren't in a position where they have to get rid of the money. He has about $70 million to go through 2015 (including a $12.5 million buyout for '16). "If it's a good deal Ruben [Amaro] will make it,'' one person with knowledge of the situation said, regarding the Phillies GM.
Boston has been adamant about not including top prospects Xander Bogaerts and Jackie Bradley Jr. in deals. But they have about 10 more top-line prospects, including pitchers Matt Barnes, Brandon Workman, Henry Owens, Allen Webster and Rubby De La Rosa and many others.
Boston also has done extremely well this year with its strategy to sign several mid-range players after unloading big-money contracts like Carl Crawford, Josh Beckett and Adrian Gonzalez, and may not be so anxious to get back into the mega-market territory. Though it's pretty clear they are talking to Philadelphia, the Red Sox also have some interest in third baseman Michael Young.
The Cardinals, Braves, Orioles and A's are among other teams in the market for a top starter. But it's still hard to imagine any of them paying the money and surrendering the prospects necessary to acquire Lee.
Lee has a no-trade to 21 teams, including most major markets, but he appears ready to go to a contender if asked.
Where might the Orioles third baseman land?

Kinsler will slot in at second base for the Angels

The Marlins got a better return for Ozuna than Stanton or Gordon
The two teams are going about things in very different ways

The Marlins are indeed in teardown mode under new ownership

The Marlins still have more attractive pieces