Reds acquire Choo from Indians in three-team deal
The Reds, Indians and Diamondbacks finalized a deal that sends Shin-Soo Choo and Jason Donald to Cincinnati. The Indians receive Drew Stubbs, Trevor Bauer, Matt Albers and Bryan Shaw while the Diamondbacks receive Didi Gregorius, Tony Sipp and Lars Anderson.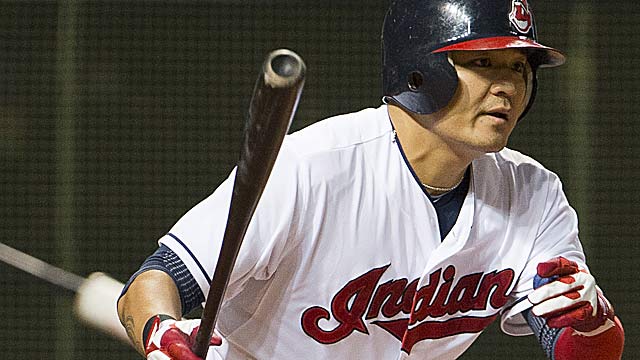 The Reds plan to use Shin-Soo Choo in center field and as their leadoff man.
(Getty Images)
The Reds , Indians and Diamondbacks finalized a three-team deal Tuesday night that sends OF Shin-Soo Choo  and IF Jason Donald to Cincinnati. Outfielder Drew Stubbs heads to Clevelend, along with a trio of right-handers: Trevor Bauer, Matt Albers and Bryan Shaw. Arizona, meanwhile, will receive SS Didi Gregorius, LHP Tony Sipp and 1B Lars Anderson. Cincinnati will also receive cash in the trade. 
The Reds plan to use Choo in center field and as their leadoff man. Choo has played just 10 games in center field for the Indians, none since 2009. But the Reds believe that whatever they lost defensively will be made up with Choo's offensive contributions.
Choo had a .373 on-base percentage and an .815 OPS last year for the Indians. He led off 98 times, and had a .389 on-base percentage in those games.
Gregorius, 22, batted .300 during a brief call-up last season. Across parts of five minor-league seasons, he owns a batting line of .271/.323/.376. He has just 20 career home runs in 1,909 plate appearances. He is, however, widely regarded as a plus defensive shortstop. Baseball America recently rated Gregorius as the sixth-best prospect in the Reds' system.
Bauer, who turns 22 next month, went 1-2 with a 6.06 ERA, 1.65 WHIP and 17 strikeouts in 16 1/3 innings with the Diamondbacks last season. In 14 Triple-A starts, the UCLA product and third-overall pick of the 2011 draft was 5-1 with a 2.85 ERA, 1.33 WHIP and 97 strikeouts in 82 innings. He's widely regarded as one of the top right-handed pitching prospects in baseball.
Stubbs, 28, has been the Reds' every-day center fielder over the last three seasons. He's a career .241/.312/.386 hitter at the highest level and has 110 steals in 137 attempts. His contact rate and, by extension, his level of production at the plate leave something to be desired, but advanced defensive measures rate him as an asset in center.
The 25-year-old Anderson joins his third major-league organization. As a 20-year-old, he thrived in the Eastern League in 2008, but since then the first baseman's development has stalled. In three cracks at the Triple-A level, Anderson has managed to hit just .259/.355/.416 with 33 home runs in more than 1,500 plate appearances. It's left to question whether Anderson has the bat to be a productive member of a major-league roster.
Donald, 27, doesn't offer much at the plate (career .257/.309/.362 hitter in the majors), but he does provide defensive flexibility. In his career, he's seen time at short, second, third, left and center.
The right-handed Albers, age 29, has a career relief ERA of 4.19. He's coming off a 2012 season in which he posted a 2.39 ERA in 60 1/3 innings for the Red Sox and Diamondbacks.
Sipp, a 29-year-old left-handed reliever, has a 3.68 ERA in four major-league seasons. Last season, he limited same-side hitters to an OPS of .663.
The right-hander Shaw, 25, has a 3.18 ERA in 87 2/3 major-league innings, all out of the bullpen.
The Indians made Choo available on the trade market because he has just one year to go before free agency. With Scott Boras as his agent, they felt they had little chance to retain him beyond that.
The Reds have long been searching for a leadoff hitter. Last week, they talked to the Twins about Ben Revere (before he was traded to the Phillies), and later talked to the Rockies about Dexter Fowler.
One of the most celebrated programs in baseball is looking to continue its run

A closer look at the teams in the Cactus League and Grapefruit League

Spring training baseball gets underway Friday
Christopher Crawford weighs in on all things prospects

Pawol is expected to umpire in the minors again come the regular season

No. 3 Texas Christian is looking to ruin Long Beach State's return home