Report: A-Rod has started process of filing grievance against Yankees
Alex Rodriguez recently started the process of filing a medical grievance against the Yankees, according to an ESPN New York report.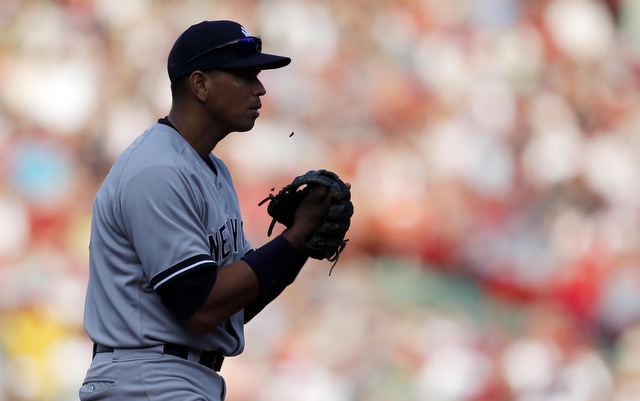 More MLB: Scoreboard | Standings | Probable Pitchers | Sortable Stats | Odds
Alex Rodriguez started the process of filing a medical grievance against the Yankees within the last two weeks, reports Andrew Marchand of ESPN New York. The report comes the day after A-Rod's lawyer told the New York Times the team misled his client about his recent hip injury.
Joseph Tacopina. A-Rod's lawyer, accused the team of hiding MRI results from Rodriguez and continuing to play him in the 2012 postseason despite a torn labrum in his left hip. "They rolled him out there like an invalid and made him look like he was finished as a ballplayer," said the attorney. A-Rod had surgery on the hip in January.
"We believed he's received the highest standard of care," said team president Randy Levine to Jon Heyman of CBSSports.com on Saturday. "He's made all the choices. [But] if Alex really believes he wasn't given good treatment, there's a remedy for that. He can file a grievance. It's time to put up or shut up."
GM Brian Cashman stood by the club's medical staff during a chat with reporters on Sunday. He also said the team has not considered releasing Rodriguez as of yet, and the two sides are "stuck" with each other during this "odd" situation. Cashman also called it "unusual" to root for someone who is slandering him.
"I'm not comfortable talking to Alex about this because we feel we are in a litigious environment," added Cashman. "Hello and goodbye, that's about it. I'm not comfortable talking to him anymore. I don't want to be distorted."
Rodriguez has said -- both himself and through his legal team -- that he believes the Yankees and MLB are conspiring to keep him off the field. He was recently suspended for a record 211 games for his role in the Biogenesis scandal, but he is appealing the ban and is allowed to play until a ruling is made.
There are still four years and roughly $90 million left on A-Rod's contract after this season. The Yankees would owe him all of that money if they release him, but they would be off the hook for any salary owed to him during a suspension.
Rodriguez declined to talk to reporters about non-baseball matters on Sunday. He is hitting .279 with a 111 OPS+ in 11 games since coming off the DL two weeks ago.