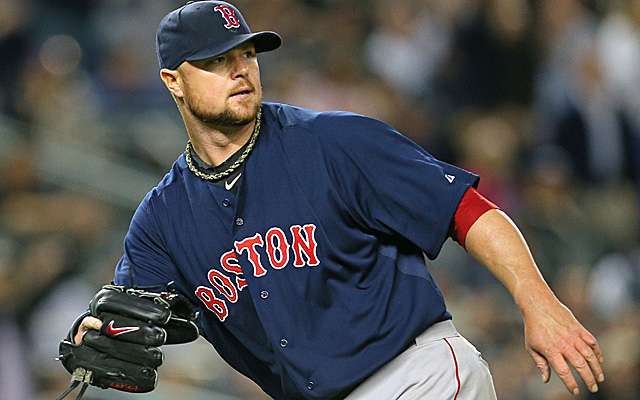 More MLB: Scoreboard | Standings | Probable Pitchers | Sortable Stats | Odds
Might the Red Sox and ace Jon Lester be parting ways after the season?
That very well might be the case, unless he's willing to accept a substantial discount in order to stay home.
Via Ken Rosenthal of Fox Sports:
The Red Sox's most recent offer to Lester was far below market value -- four years between $70 million and $80 million, according to sources within the team's clubhouse.

Lester, who is eligible for free agency at the end of the season, rejected the offer and will not resume negotiations with the club until the offseason, the sources said.
OK, so four years and $70 million as a low-ball offer seems a bit ridiculous to you and me. Let's put this in perspective, though.
Homer Bailey of the Reds just got a six-year, $105 million contract extension. Lester is roughly three years older, sure, but here are their career numbers:
Lester: 101-58, 3.74 ERA, 118 ERA+, 1.30 WHIP, 8.1 K/9, two-time All-Star
Bailey: 49-46, 4.29 ERA, 95 ERA+, 1.33 WHIP, 7.4 K/9, zero ASG
Obviously, Bailey has been much improved in the past two seasons, but the fact remains that the track record shows Lester should be more highly compensated. Add in the fact that Boston is a much larger market than Cincinnati and Lester was just the ace of the World Series champions last season and that deal above is a head-scratcher.
It's not just Bailey. That was simply an example. Masahiro Tanaka signed a seven-year, $155 million with the Yankees this past offseason. Players far below Lester's value like Ubaldo Jimenez and Ricky Nolasco were signing four-year, $50 million deals while Clayton Kershaw signed a seven-year, $215 million deal.
Lester isn't Kershaw, but he's not Nolasco or Jimenez either. He's better than Bailey. And it looks like he's going to join Max Scherzer, James Shields and Justin Masterson on the top tier of free agent starters this coming offseason.