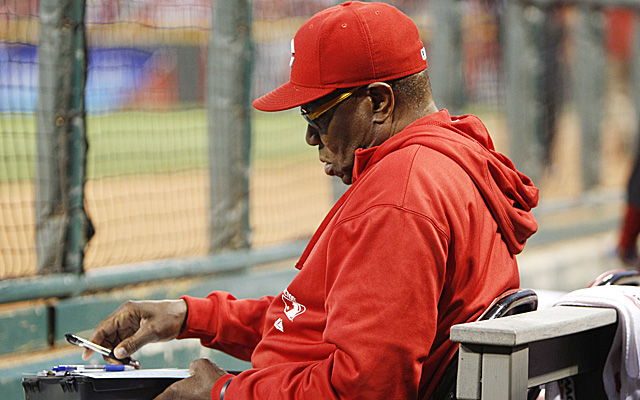 RIPs: Astros | Marlins | White Sox | Cubs | Brewers | Mets | Giants | Rockies | Twins | Phillies | Padres | Mariners | Blue Jays | Diamondbacks | Angels | Nationals | Orioles | Royals | Yankees | Rangers
The Cincinnati Reds made the playoffs for the third time in the last four seasons, but, again, bowed out without advancing. What worse is this time around they didn't win the NL Central. Instead, they got a wild card and it only took one loss before they were sent packing, with a 6-2 loss to the Pirates Tuesday night. Thus, now that their season is over, it's time to mourn the way we do with every team here at Eye On Baseball.
What went right
Joey Votto and Shin-Soo Choo formed one of baseball's elite on-base duos, which played no small part in Brandon Phillips' first 100-plus RBI season. Jay Bruce hit 30 homers for the third-straight season. The offense as a whole was pretty maligned through much of the season by the Reds own fan base, but they ended up with the third-most runs scored in the NL behind the mighty Cardinals and the Rockies, who play in the best hitter's park in the league. 
The starting rotation was again excellent, ranking third in the majors in starter's ERA. Notable on that front was the Reds found out Tony Cingrani can perform very well at the big-league level. Aroldis Chapman had another quality season as closer, if not nearly as dominant as last season.
And, of course, in September we caught our first glimpse of the blazing Billy Hamilton.
What went wrong
An awful lot for a playoff team.
Johnny Cueto missed most of the season with injury while setup men Sean Marshall and Jonathan Broxton only combined for 50 appearances.
With the sticks, Todd Frazier had a disappointing sophomore campaign while Devin Mesoraco still hasn't come close to justifying the top-20 prospect hype he once had. Phillips' rate stats (.261/.310/.396) actually show a below average hitter (92 OPS+), too. Zack Cozart doesn't provide much offensive help either.
Ryan Ludwick was injured on opening day and lost for most of the season. When he returned, he wasn't productive.
And while I hate the use of runners in scoring position average or runners in scoring position with two out average as some sort of conclusive, predictive stat, it can be used to look back and say, "why?" Well, the Reds were brutal (.203/.345/.319) with runners in scoring position and two out. That's a good way to leave lots of guys on base.
MVP: Votto. We can nitpick his approach and RBI total all day, but the bottom line is that the most important thing an offensive player can do is not make an out. No one in baseball is better, year-in, year-out, at not making outs than Votto. 
LVP: Ludwick. He couldn't help the injury, but since he's been back he's been awful, the two-hit game in the wild-card game notwithstanding. Comparing his offensive production from last year to this year is good enough to get him here.
Free agents to be: IF Cesar Izturis, OF Shin-Soo Choo, SP Bronson Arroyo, RP Zach Duke, RP Manny Parra, RP Nick Masset
Gameplan heading into the offseason
First, on the rotation, the Reds really don't need to do much. Tony Cingrani can step into Arroyo's spot in the rotation while Johnny Cueto, Mat Latos, Homer Bailey and Mike Leake are holdovers. That's a playoff-caliber rotation.
In the bullpen, it's similar. Most of the important parts are coming back, including, obviously, Chapman.
Ditto for the infield, catcher and right field -- though an upgrade behind the plate if Mesoraco continues to struggle wouldn't hurt at all. The Mesoraco-Ryan Hanigan combo isn't very productive.
What's left are center and left field. Ludwick is signed through next season, but that contract doesn't look promising right now. Maybe the Reds deal him and eat most of the contract, but something needs to be done of get better both offensively and defensively at these two spots, assuming Choo walks.
Speaking of which, there are two looming questions here:
1. Can the Reds retain Choo? I'm guessing no, at his asking price. If it comes down to Michael Bourn level, the Reds may swing that.
2. Is Hamilton ready to take over in center? If the Reds deem the answer to that question is yes, they can concentrate on trying to land a quality left fielder. The problem is the free agent crop of outfielders isn't very inspiring. The only starter types among left fielders seem to be Nate McLouth, Mike Morse and David Murphy. Curtis Granderson saw some time in left this year and is pretty intriguing with a league switch and hitting in Great American Ball Park. Would they try to sign Nelson Cruz and move him to left? David DeJesus could be an affordable option. And, again, if Choo's price comes down, he could be a fit in left.
Otherwise, it's the trade market for a left fielder.
Overall, though, the Reds don't have to do that much. With a little better fortune on injuries and situational hitting, they might have won 95-100 games. I see no reason to do something drastic with most of the key players coming back. Really, the mantra should just be for a lot of the position players to play better next year. They need to handle their business internally.
And, no, Reds fans, I don't think Dusty Baker is going anywhere. [UPDATE: Ha! I was wrong there. Many of you got your wish. So add "find a new manager" to the list of priorities.]
Ridiculously premature prediction for 2014
Don't like the one-game wild-card playoff, Reds fans? Too bad. You're gonna be in it again next year.