This, D-Backs, is why you don't 'go macho' in a close game
Maybe the Brewers taught the Diamondbacks a little something about picking their spots on Tuesday night.
More MLB: Power Rankings | Expert Picks | Latest news & notes | Fantasy news
The Diamondbacks under Kirk Gibson have not been shy about their willingness to engage in beanball wars should the urge strike them. On Tuesday night against the Brewers, they were presented with just such a cherished opportunity.
As for the near-term background, Milwaukee starter Kyle Lohse indeed hit two Arizona batters and came pretty high when doing so to Chris Owings. Neither appeared to be intentional, however. Anyhow, since the game was close at the time, file it away if you're the kind to catalog and cling to grievances. If you're the D-Backs, however, you fly your battle flag regardless of the situation. 
Here's what Arizona reliever Evan Marshall did immediately after missing Ryan Braun with a pitch behind him ...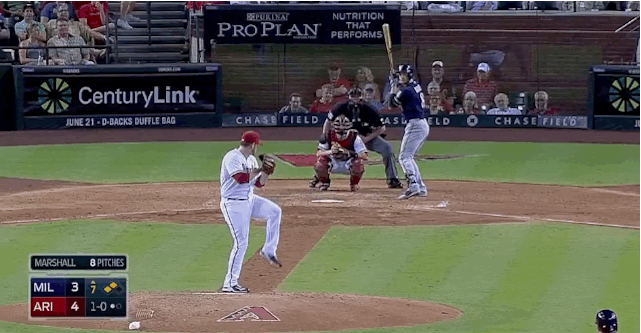 He got him on the second try, and then he was ejected and welcomed back to the dugout as a conquering hero ...
Kirk Gibson gave ejected P Evan Marshall a fist bump for hitting Ryan Braun http://t.co/CRbkOOV68E pic.twitter.com/RQEsqeC1z4

— Larry Brown (@LBSports) June 18, 2014
Oh, and the home crowd loved it, as well ...
Marshall is ejected after hitting Ryan Braun with a pitch. He leaves to a standing ovation. #Dbacks

— Arizona Diamondbacks (@Dbacks) June 18, 2014
Here's the thing, though: After the Braun plunking the bases were loaded with one out and the D-Backs clinging to a 4-3 lead. In stepped Jonathan Lucroy, who had already homered in the previous inning and who has been one of the NL's best hitters thus far in 2014. 
Let us now roll predictable tape ... 
Grand slam. Brewers go on to win 7-5. 
Maybe Gibson and the D-Backs care more about commiting glorious and honorable Seppuku than they do about winning games, but relevant NL teams -- those chasing the Brewers for a playoff berth -- would probably prefer that they live out their revenge fantasies in less high-leverage situations. That is, you don't play fast and loose with base-runners in the seventh inning of a one-run game. 
Well, you can if you want, but you might wind up looking like a fool.