Time for Houston to do the right thing, trade reliever Chad Qualls
The Astros have an opportunity to deal a 36-year-old reliever for more than he's worth and need to take advantage of that.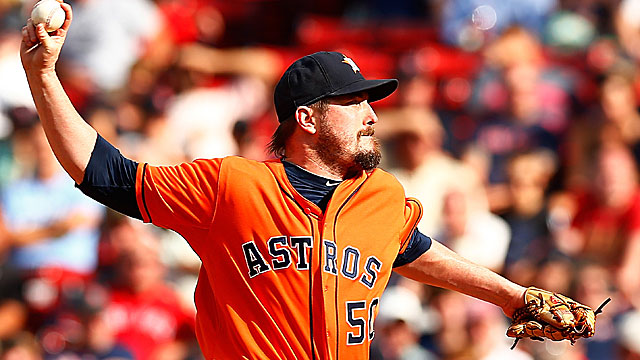 The Astros need to trade Chad Qualls to the Tigers, not for Detroit's sake but for their own.
A lot of the stuff Houston does is very smart and could well lead to the Astros becoming a contender one day (and no, I am not predicting the World Series in 2017). They are smart, though maybe not as quite as smart as they think they are. Not everything they do makes sense. For instance, letting brilliant left-hander Brady Aiken, the best amateur player in the land, get away over $1.5 million makes no sense.
Neither does their fixation on their closer Qualls, who was reportedly claimed on waivers by the Tigers. (Peter Gammons reported it was Detroit that won the claim.) Assuming this is true, Qualls needs to be sent to Detroit now.
The Astros have some deep thinkers to be sure, but there can be no earthly reason why they are so tied to a 36-year-old relief pitcher who they won't even consider trading. And yet, when teams called before the July 31 trade deadline, that's what they were told. The word was: Qualls wasn't going anywhere. So in other words, the Astros were willing to trade a young starter (Jarred Cosart, who was indeed traded to the Marlins) but not an old reliever.
I'm not going to dispute their right to trade the hard-throwing Cosart, who they may very well not have loved for whatever reason. But they can't be this married to Qualls, a solid guy who can help a contender, but shouldn't have anything to do with Houston's long-term plans. They simply can not be.
Put aside for a second the fact the Tigers could use Qualls, and they clearly can, with Joakim Soria still out with an oblique injury, veteran closer Joe Nathan toting a 5.36 ERA (almost four runs more than last year's 1.39), Joba Chamberlain not being a viable candidate to close and Al Alburquerque (who leads Tigers relievers in ERA, WHIP and strikeouts) clearly not about to be given the job, for whatever reason. The Astros need to use this opportunity to enhance their future because that's all they have.
The Astros need to take advantage of Detroit's obvious desperation. The Tigers, prohibitive favorites in the AL Central to start the season, find themselves in a dogfight thanks to the Royals' recent stellar play, plus injuries, undeperformance and a bullpen that can't be trusted. They've shown interest in Qualls before, and he's obviously worth a lot more to them than he is to the Astros. Or should be.
The Tigers understand that their bullpen situation is dire, too. They gave up two great prospects -- Jake Thompson and Corey Knebel -- for Soria. Qualls isn't on Soria's level. But Detroit is even more needy now than when it made that trade.
Qualls has a 3.07 ERA, which is only great compared to the accomplished but struggling Nathan,  who's given up a run in each of his last three outings. And Qualls has saved just 14 of 17 chances (see how little a closer is needed by the second-division Astros -- even Nathan in his one off year has almost twice that many saves with 27). Beyond that, Qualls also has a contract that pays him $3 million next year and gives the team a $3.5 million option for 2016, with a $250,000 buyout.
The Astros, for all their many great prospects, aren't in great need of a 37-year-old closer next year. They do need to continue to build.
Have I mentioned that Detroit is desperate?
Magic was watching his Dodgers take care of business in the NLCS while at the Lakers game

Gardenhire is familiar with the American League Central

"Homer at the Bat" is being memorialized by its own show in a unique way this weekend
It's Clayton Kershaw against Jose Quintana at Wrigley Field in Chicago

Five months is mid-to-late March, so this could impact the 2018 season

Cubs manager Maddon becomes the first manager ever ejected twice in one postseason series