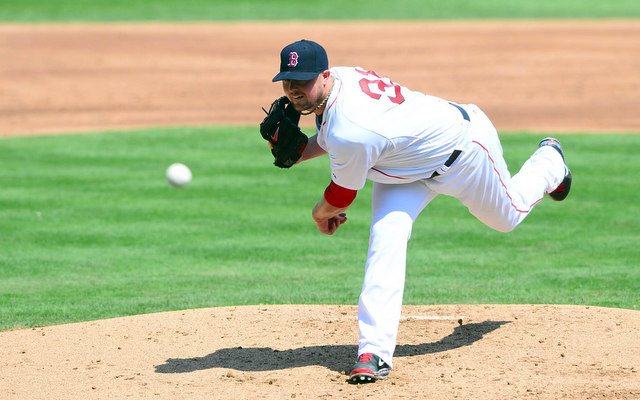 More MLB: Power Rankings | Expert Picks | Latest news & notes | Fantasy news
On Saturday, we learned the Red Sox made a low-ball contract offer to ace lefty Jon Lester, who is due to become a free agent after the season. The offer was said to be worth roughly $70 million across four years, a pittance by today's standards. That's one step up from Mark Buehrle money (four years, $58 million).
Lester, 30, reportedly rejected the offer (duh) and broke off contract talks until after the season, when he can get multiple clubs involved in a bidding war. It is somewhat risky because he's a pitcher and pitchers tend to get hurt, but Lester has already banked $43+ million in his career. He is in good position to roll the dice.
Obviously $70 million across four years is very light for a pitcher of Lester's caliber. After all, Masahiro Tanaka just landed a seven-year, $155 million contract without ever throwing a pitch in MLB. Lester has proven himself to be an AL East battle-tested workhorse who can also do the job in the postseason. Teams will jump at the chance to get him on their roster.
A handful of big name pitchers have recently signed long-term contract extensions one year before hitting free agency, and, as you might suspect, all were worth more than $70 million across four years. Lots more. Here are a select four and how their performances at the time of their extensions compare to Lester:
Recent Extensions for pitchers one year from free agency
 
Lester
H. Bailey
A. Wainwright
M. Cain
C. Hamels
Age at Extension
30
27
31
27
28
Previous Yr. WAR
3.0
3.2
1.1
3.7
6.6
Previous 3 Yrs. WAR
8.1
6.1
7.5
14.4
13.8
Contract Years
?
6
5
5
6
Contract Dollars
?
$105M
$97.5M
$112.5M
$144M
Option Years?
?
1
0
1
 0
Others like Clayton Kershaw, Justin Verlander and Felix Hernandez have signed extensions one year prior to free agency in the not too distant past, but Lester is not in their class. He's very good, but those three are Cy Young winners at the top of pitching food chain. The four guys above are more appropriate comparisons in my opinion.
From an age standpoint, Adam Wainwright is the best comparable. He was also one year removed from Tommy John surgery at the time of his extension and Lester has been perfectly healthy. Also, Wainwright acknowledged taking a discount to remain with the Cardinals. His contract is a bargain.
Homer Bailey was both younger than Lester (good!) and not as accomplished (bad!) at the time of his extension while both Matt Cain and Cole Hamels were younger and better leading up to their contracts. At least based on WAR. Like Lester, both Cain and Hamels were key cogs in World Series winning teams, though they have spent their entire careers in the NL. The same applies to Wainwright.
These four contracts -- really three if we exclude Wainwright because of his injury and admitted discount -- show that Boston's offer is ridiculously low. At the very least, they need to tack on another year and bump the average annual salary up from $17.5 million to $20 million or so. That seems to be the bare minimum. Five years and $100 million or so.
Now remember, these are contract extension prices. Wainwright, Bailey, Cain and Hamels surely would have received larger contracts had they tested the free agent waters. With Lester breaking off negotiations following the low-ball offer, the Red Sox will have to compete with other clubs to sign him after the season. At that point five years and $100 million will look like a bargain.
If Lester were to hit the open market, I'm pretty sure the Theo Epstein-led Cubs and rival Yankees would make a serious push to add the prime-aged southpaw to their rotations. Others like the Mariners, Dodgers, Nationals, Phillies, Tigers, Diamondbacks, Angels and Rangers could get involved as well. It would be a surprise if Lester had to sit around waiting for an offer like Ubaldo Jimenez and Ervin Santana did this winter.
It's always possible Lester will re-open talks with Boston, but that low-ball offer seems to indicate the team only wants him back at an extreme discount. It's similar to how they offered Jacoby Ellsbury only five years and $100 million before he hit free agency. Given the current market, I think Lester has a chance to double the guaranteed money the Red Sox offered this coming offseason. They weren't even in the ballpark with their recent offer.