Wheeler gets ripped; can we stop the Harvey comparisons now?
Matt Harvey is a work of art, Zack Wheeler a 'work in progress.'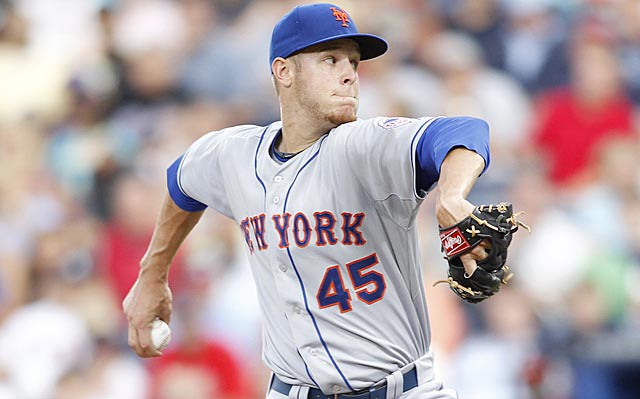 NEW YORK -- The anticipation for Zack Wheeler's promotion was nuts, even by New York standards, with daily updates regarding what week or day he might come up to join fellow Mets right-handed phenom Matt Harvey in the bigs. The expectation Sunday for his Citi Field debut was huge, too, so great it took precedent even over the giveaway of bobbleheads of beloved David Wright.
But the early verdict is in, and Wheeler's no Harvey.
Sure, he's young, he's right-handed and he throws hard (most of the time). But there the comparison ends.
"Harvey's maybe the best pitcher I've faced. It's tough to compare anybody to that," said Nationals first baseman Adam LaRoche, who did note that Wheeler has a pretty good two-seamer and curve.
"They're different guys," Nats third baseman Ryan Zimmerman said. "Harvey's pretty tough to compare to anyone. But this guy has a chance to be good. Today, he didn't throw strikes."
Harvey, who's thrown better than anyone in the big leagues this year, is the slight favorite to start the All-Star Game at Citi Field in a couple weeks. Mets people are excited enough about that possibility that they seem willing to move him off his scheduled Sunday start for them if it means accommodating a home All-Star Game start.
Wheeler is, as Mets manager Terry Collins said, "a work in progress.''
It's no surprise Mets fans are excited about the 6-foot-4, 23-year-old Wheeler, as the future is the focus for a team that's 33-45. Mets fans gotta believe in something, and that is 2014 and beyond.
But Harvey is a 100 mph throwing machine with a dynamic breaking ball and changeup who has matched the hype, and then some. And Wheeler needs to keep working.
At the very least, we can all stop claiming the Mets left him in Las Vegas so long only so they could push back his arbitration clock. If this kid is ready, he's barely so.
Harvey is a tough Northeastern kid who always thought he belonged. He recently asked Collins what took the Mets so long to call him up. (Answer: They didn't see in the minors anything like they're seeing now.)
Harvey was the best high school pitcher in the country his junior year in Mystic, Conn., about 2½ hours north of here. He was quite likely the best college pitcher in the country his junior year at North Carolina, when then-Mets scouting director Rudy Terrasas and GM Omar Minaya made an astute pick, using the No. 7 overall selection in the 2010 draft, what was dubbed the "Bryce Harper draft," on Harvey.
It hasn't aways be a smooth ride for even Harvey, however.
He fell back his senior season in high school to the point where he became a third-round pick of the Angels, and then he had one bad year at UNC, too. Folks close to him thought he overlifted at times, overthought at others.
In the minors, Mets people were far from sure they had a star. Collins recalled receiving a phone call from a scout a little before Harvey was promoted touting Harvey as a "No. 3 or 4 starter" at the big-league level.
They all now think Harvey was merely bored in the bushes, and that's quite likely the case. Because when he got to the majors, he was a dynamo, and he just keeps getting better. With maybe the best fastball among starters in the big leagues to go with a plus breaking ball and change, he's a threat to throw a no-hitter every time out. He's getting comparisons to Tom Seaver and Dwight Gooden, some of them from Gooden himself.
Wheeler, so far, sounds and looks nothing like Harvey. He threw six scoreless against his hometown Braves when he was just a rumor to everyone. Then he had a rough start against the White Sox, and an even rougher one Sunday against the Nationals.
Wheeler might yet be a star but right now he's battling himself as well as the hitters. It was a nice trade by Sandy Alderson to get him for a rental, even a very good rental such as Carlos Beltran. But that doesn't make him Harvey II.
The San Francisco Giants were going for it, and they took a risk. But when they traded him, not everyone in the smart Giants hierarchy was convinced Wheeler would be a starter. Some thought so, but others weren't so sure. A few envisioned him as a reliever. That's why they dealt him. That, and Alderson wouldn't take anyone else.
Wheeler enhanced his stock by generally throwing well in the minors, and he was 4-2 with a 3.93 ERA playing in an overheated band box in Vegas. Mets people all see him as a front-line starter, though no one is foolish enough to make the Harvey comparison. A.J. Burnett was one more realistic comparison that has been heard.
That wouldn't be so bad. But even that's no guarantee, and his short forays into the world of the New York media suggest something short of the confidence of a Harvey. He could possibly be the Jerry Koosman to Harvey's Seaver. But I wouldn't bet on it.
There's no proof Giancarlo Stanton will even be discussed in trades by the Marlins. But when he is available, the Mets shouldn't hesitate to make Wheeler part of a package for Stanton. From here, he looks like a much rarer talent.
I'm not convinced they would, though. When I suggested to one Mets person this winter that they offer Wheeler for Justin Upton, that person looked at me like I had three heads (we were actually on the phone, but that's what I imagined). I wonder if they are believing the hype.
Back to Sunday. Wheeler's fastball went from the customary 97 mph early, to 94 and 93 later. He was anything but dominant.
Mets fans, who have pinned their hopes on him, applauded him warmly when he left in the fifth inning, having allowed five runs on six hits, including two bombs, one to LaRoche and one to Jayson Werth, in the 13-2 shellacking administered by Washington. If he looked shell-shocked afterward, it's understandable.
Collins stretched for something nice to say.
"He looked more relaxed," the manager said. "I thought he threw some good pitches."
Talk abut damning with faint praise. That's the thing about someone who throws in the mid-90s, he's bound to throw "some" good pitches.
It was only one game, and the Nats were due to break out. But it's very fair to wonder now whether Wheeler's ready for prime time.
The Nats got some great swings at him. At times, Nats hitters hit like they knew what was coming, which fits into the second-game claim that he was tipping his pitches to the White Sox.
This will be a good test.
Collins liked all the strikes he threw early. But he warned that he needs to be himself. That means if he's throwing strikes by laying it in there, that's no way to go.
Wheeler is battling the hitters, and quite likely battling himself while dealing with a publicity machine that's out of hand. As Collins noted, "It's pretty hard to fight the hype."
For now, it may be all too much for him. There are the hitters, and the hype.
A pitcher like Harvey comes along maybe once a generation, maybe once a decade if you're lucky, and the Mets aren't known for their rabbit's foot.
Neither Josh Donaldson nor Brian Dozier have talked about a new contract extension

Francisco leads the Dominican Winter League with seven home runs

Thome deserves enshrinement and here's why the case against him does not hold up
The Twins have already fortified the bullpen with Addison Reed, and now they want to address...

The Orioles likely want pitching, and the Indians have plenty of it

Halladay died in a November plane crash off the coast of Florida