Yankees spending spree doesn't trump roster question marks
The Yankees have spent lavishly this offseason after missing the playoffs. Will that trump all their question marks? My gut feeling says no.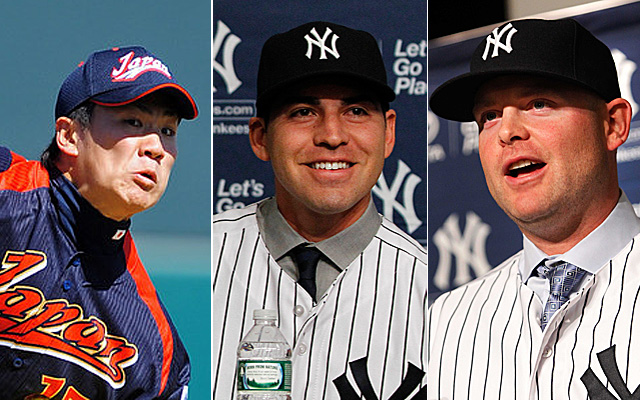 NYY signs Tanaka for 7 years, $155M | Tanaka better than other NPB exports
After missing the playoffs in 2013, the New York Yankees have spent lavishly this offseason to restock their big-league roster. The signing of Japanese ace Masahiro Tanaka was only the latest high-profile move, as the Yankees have also signed Brian McCann , Jacoby Ellsbury and Carlos Beltran this offseason.
And I can't help but think back to the offseason following the 2008 season.
Since strike-shortened 1994 season, the Yankees have only missed the playoffs twice. The first time was 2008. It was followed by an offseason of excess spending on free agents -- CC Sabathia , Mark Teixeira and A.J. Burnett while also trading for Nick Swisher . In 2009, the Yankees went out and won their 27th World Series championship.
This past season marked only the second time since the strike the Yankees missed the playoffs. Again, they've gone on a spending spree in free agency. Will history repeat itself?
While I'd never count the Yankees out and wouldn't be remotely surprised if they win their 28th title this coming season, I just don't feel like there's enough right now. The question marks are just too plentiful. Let's hop around the diamond and specifically hit many of them.
C: McCann was very good last year once returning from injury, but he hit .230/.300/.399 (87 OPS+) in 2012. That season appears to be the outlier, but McCann is a catcher who turns 30 this year and has already racked up over 1,000 starts behind the plate. How will he hold up, physically?
1B: Mark Teixeira turns 34 this season and is coming off a major wrist injury, one that sometimes hampers players from immediate success upon return. What if he's unable to bounce back?
2B: Robinson Cano was one of the few reliable players for the Yankees in 2013 and now he's gone, replaced by a combination of Brian Roberts and Kelly Johnson . Can the duo be even remotely productive?
SS: Derek Jeter will turn 40 this year after a lost 2013 season. Does he have anything left in the tank?
3B: Can production be found from some combination of Johnson, Eduardo Nunez and Scott Sizemore ?
OF: The track records of Brett Gardner and Jacoby Ellsbury are littered with injuries. Can they stay healthy? Carlos Beltran turns 37 this year. How much longer can he hold up?
DH: It's either 38-year-old Alfonso Soriano or Jeter -- with light-hitting Brendan Ryan playing short. How much production can we really expect here? Soriano is incredibly streaky and has consecutive seasons north of 30 homers and 100 RBI, but he's getting up there in age.
SP: Is CC Sabathia in his decline phase? He turns 34 this year and was bad last season, leading the majors in earned runs allowed. How will Masahiro Tanaka adjust to life in America? Hiroki Kuroda will be 39 this year and was 0-5 with a 6.80 ERA in his last seven starts last season. Is he cooked? Who is going to fill the role of fifth starter?
RP: Can David Robertson successfully take over the role of Mariano Rivera ? Even if he does so, is the bridge to the ninth good enough with the likes of Shawn Kelley , Matt Thornton and Cesar Cabral ?
That was an admittedly cursory and superficial glance at the roster, but it's pretty telling. Even the most optimistic of Yankees fans must admit that's an awful lot of questions. Sure, every team faces questions aplenty heading into every single season and, yes, the Yankees do possess significant upside. As I said above, I won't be surprised if they win the World Series.
Realistically, though, the odds of most of those questions being answered in positive fashion for the Bronx Bombers aren't great. I'll be betting on the Yankees to miss the playoffs again in 2014, albeit by a slim margin and with some level of uncertainty.
Iowa and Missouri are two programs mixing technology and analytics

Sunday's MLB roundup features the D-Backs clinching a postseason spot and the Mariners going...

The 2017 season has been, by far, the worst season of Cabrera's career
The Mariners were eliminated from postseason contention with Sunday's loss

Maxwell became the first MLB player to kneel during the national anthem Saturday

The Blue Jays are not expected to bring Bautista back next season