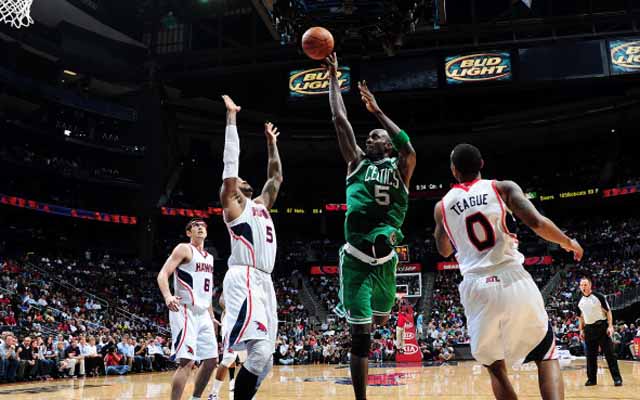 Keivn Garnett leads the Celtics against Atlanta in the first round.
(Getty Images)
BIGGEST STRENGTH

Atlanta: Balance
The
Hawks
have always been a bit of an enigma, on both ends of the floor. There's a heap of talent, athleticism and ability there, but they never seem to entirely know what they are. Are they a transition, up-and-down team? Are they a grind-it-out halfcourt team? Are they defensive minded? This season the Hawks slowed down (23rd in pace), played more of a defensive game (6th in defensive efficiency) and relied upon halfcourt execution. They have multiple scorers and can force turnovers and quickly turn those into points.
Boston: Defense
It's their backbone. And no, I'm not just saying that because
Kevin Garnett
said it in this totally awesome commercial. (OK, maybe I am.) But the
Celtics
finished second in defensive efficiency allowing 98.6 points per 100 possessions. They wins games on the wings of a stiff defense and enough offense engineered from
Rajon Rondo
and
Paul Pierce
. Scoring on the Celtics is a chore, which has always been their intention. The Hawks have struggled more than most scoring on Boston, averaging 11 points fewer than their season average against Boston. Atlanta's offensive rating drops all the way to 91.9 against the Celtics. If Boston is winning this series, it's going to be because Atlanta simply couldn't score. 

BIGGEST WEAKNESS

Atlanta: Jumpshooting
What can make the Hawks extremely good, is also what can sink them. They led the league in long 2-point attempts according to NBA.com. But here's the good news: They also made the second most long 2s in the league. So it's a bit of sink or swim for them. The Celtics are the kind of team that can expose offensive weakness as well as anyone, so unless the Hawks are hitting those jumpers -- I'm looking at you,
Josh Smith
-- it could be a challenge for them to find consistent scoring.
Boston: Offensive Consistency
There are times that the Celtics offense looks downright painful. For having an offensive wizard in Rondo, possessions sure seem to stall to a grind. At times, it seems like it clicks and churns as if the Celtics are one of the more powerful offensive units in basketball. Other times, you find yourself truly wondering where, or when, the next basket might come from.
X-FACTOR
Atlanta: Josh Smith
He can completely change games. On both ends. Smith is an incredible talent. Seriously, an
incredible
talent. I don't think people realize it sometimes. And get this: He's still only 26 years old. Crazy. But he's got to make a difference in this series. He has to defend Kevin Garnett, create easy points on the offensive glass and in transition, help and rotate everywhere defensively and basically play out of his mind. I think he's capable of it.
Boston: Ray Allen's health
The Celtics probably can get by the Hawks without Allen. But you know there will be a close game at some point and Boston will miss not having the option to use Allen curling off a screen to knock down a big 3-pointer. The bone spurs in his ankle have been troublesome and while
Avery Bradley
has been a bit of a revelation as of late, Ray Allen is Ray Allen. He's the greatest 3-point shooter ever and not having him on the floor hurts the Celtics offensively. And this is a team that can't afford to hurt offensively.

MATCHUP ADVANTAGE

Atlanta: Athleticism vs. Oldness
The Hawks will miss
Al Horford
greatly, but they do have a lot of length and athletic ability. They can run the floor, challenge shots, jump and just try and out-athlete Boston.
Marvin Williams
, Smith and company need to show off those young legs.
Boston: Rondo vs. Jeff Teague
There's really just no contest here. Teague is a nice player, as well as
Kirk Hinrich
behind him, but Rondo is in a class of his own in this series. With Teague on the floor, Rondo averages 14 assists per 36 minutes. And the other way, Teague averages 3.6 assists per 36 with Rondo on the floor to 7.8 per 36 when he's off. The Celtics have a massive advantage at the point of attack.
WILL WIN IF...

Atlanta will win if... Joe Johnson finally rises up
The Hawks are a tad overmatched in multiple ways. They don't score well against Boston and really, just don't seem to play well against the Celtics period. Boston just has their number. But there's not a huge talent separation between the two teams. What it comes down to is shotmaking and playmaking, something the Celtics have a knack for. If the Hawks can get crunch time points, they might be able to steal a game or two. And that's likely going to have to come from Joe Johnson. It's time for him to carry a team emotionally. If the Hawks have any aspirations to go somewhere, Johnson has to step up and hit some shots when the Hawks need him.
Boston will win if... they own points in the paint
There's little doubt in my mind that these games will be ugly. I'm fully expecting games played in the 80s and maybe 70s. The Celtics struggle scoring at times and do an outstanding job of not letting their opponents score. But if the Celtics create easy points in the paint from Rondo distribution or simply get to the free throw with regularity, that will be all the Celtics need to handle the Hawks.
THE PICKBoston in six.