Blazers G Elliot Williams (Achilles) undergoes season-ending surgery
Portland Trail Blazers guard Elliot Williams underwent season-ending surgery after rupturing his left Achilles during a workout earlier this week.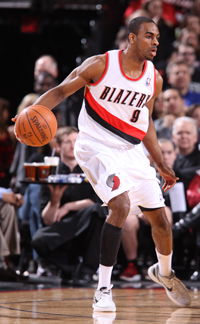 Blazers guard Elliot Williams underwent season-ending surgery .
(Getty Images)
It's another cruel blow for Portland Trail Blazers guard Elliot Williams, who just underwent his third season-ending surgery before his third NBA season even started.
The Blazers announced Friday that Williams, a reserve guard, underwent successful surgery on a ruptured left Achilles tendon. The surgery will end his 2012-13 season more than a month before the Blazers play their regular season opener against the Los Angeles Lakers on Halloween.
Williams suffered the injury while participating in a "voluntary offseason workout" at the team's practice facility on Tuesday.
Williams, 23, was unable to play during 2010-11, his rookie season, after undergoing surgery on both his knees. He also missed significant time in 2011-12 after undergoing left shoulder surgery following an injury sustained during practice.
"A year ago, at this time, I couldn't even walk," Williams said in February 2012, reflecting on his knee surgeries. "I was in the bed. It was tough. I had surgery on both my knees. I worked hard to get back on the court. It's a blessing." 
On Monday, Blazers coach Terry Stotts told Blazers.com that a vast majority of his young team was in town more than three weeks before the start of training camp thanks to All-Star forward LaMarcus Aldridge, who decided to organize the workouts.
"With so many new players, they're getting to know each other, they are lifting weights, they are doing conditioning drills and then they are playing," Stotts said. "As much as we can do with them, within a group, is limited. But it's all been very positive."
Portland, in the midst of a full-scale rebuilding effort, figured to rely heavily on Williams this season. Wesley Matthews was the surefire starter but Williams, a smooth left-handed scoring guard, seemed the best candidate for reserve minutes. In his absence, 2012 second-round pick Will Barton and 2011 first-round pick Nolan Smith will pick up the playing time slack.
Williams, a 2010 first-round pick out of Memphis, holds career averages of 3.7 points and 0.8 rebounds in 6.2 minutes per game in just 24 career appearances. He's still on his rookie scale contract, a deal that will pay him $1.4 million in 2012-13. The Blazers hold a team option for 2013-14.
The Lakers will be retiring Kobe Bryant's No. 8 and No. 24 jerseys at halftime

The Nuggets will look for their second-straight win with Nikola Jokic back in the lineup

This composition is absolutely amazing
Stephen Curry, who grew up in North Carolina, wants to be part of the next Panthers ownership...

Vince Carter is destined for a Raptors reunion; he doesn't know when it'll happen

Thomas has a target date for his return, and with the Cavaliers scorching, this could be h...