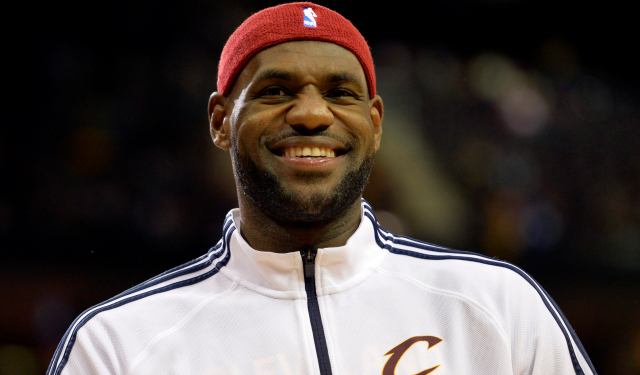 On Wednesday, LeBron James once again addressed mending fences with Cleveland Cavaliers owner Dan Gilbert. He'd already discussed this in his announcement co-written with Sports Illustrated's Lee Jenkins, but he added some more of his thoughts here.
"How did I forgive?" James said, via ESPN's Dave McMenamin. "I'm a man. Men, we all make mistakes. As a man, if you got a problem with somebody, you sit down face to face and you talk to them eye to eye. And you hash it out and move on. So, I think a lot of things that go on in life or in sports with people kind of holding grudges is because they're afraid to actually take a step forward. It's a fine line between pride and progress, and I'm on the progress side. I'm not on the pride side."
Let's rewind to what he originally said in SI:
I always believed that I'd return to Cleveland and finish my career there. I just didn't know when. After the season, free agency wasn't even a thought. But I have two boys and my wife, Savannah, is pregnant with a girl. I started thinking about what it would be like to raise my family in my hometown. I looked at other teams, but I wasn't going to leave Miami for anywhere except Cleveland. The more time passed, the more it felt right. This is what makes me happy.

To make the move I needed the support of my wife and my mom, who can be very tough. The letter from Dan Gilbert, the booing of the Cleveland fans, the jerseys being burned -- seeing all that was hard for them. My emotions were more mixed. It was easy to say, "OK, I don't want to deal with these people ever again." But then you think about the other side. What if I were a kid who looked up to an athlete, and that athlete made me want to do better in my own life, and then he left? How would I react? I've met with Dan, face-to-face, man-to-man. We've talked it out. Everybody makes mistakes. I've made mistakes as well. Who am I to hold a grudge? 
This was one of the more interesting parts of the story. In the weeks and months leading up to James' free agency, it was always hard for some of us to picture him going back to Cleveland. In an infamous open letter, Gilbert had called his choice to leave the team an act of "cowardly betrayal" and labeled James a "former hero." Since the return, both James and Gilbert have spoken about how they wanted to be on good terms regardless of what happened this summer, and how it felt good to clear the air. When James wrote that he wanted kids to learn about not holding grudges, that was commendable. 
It would be disingenuous not to point out the other parts of this equation, though. James went back to the Cavs for a number of reasons. He clearly wanted the fans in Ohio to love him again, and he also wanted to play with Kyrie Irving and Kevin Love. James told reporters that "95 percent" of his decision to come back was about the location, but Irving's presence was also a "huge part" of it, via ESPN. Talking things through with Gilbert was a nice piece of "progress," as James put it, but it was also a must in order to do what he desired.
You can hardly imagine James signing in Cleveland if, say, Kyrie Irving had been traded this past season. Or if the team failed to clear maximum cap space. Or if it had wound up with someone like Noah Vonleh in the draft instead of selecting Andrew Wiggins and trading for Love. James left a contender in Miami, but the Cavs provided him a better long-term situation as well as the opportunity to repair his relationship with his home state. If all of that wasn't in place, there would have been significantly less motivation to forgive Gilbert.