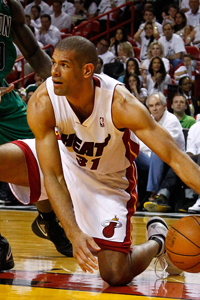 Shane Battier helped Miami's small-ball execel in Game 1. 
(Getty Images)
The
Celtics
entered Game 1 against the
Heat
supposedly able to play small-ball and still dominate. They had done so for most of the season.
Kevin Garnett
at center,
Brandon Bass
at power forward, no true center, no big small forward to compensate. It was all hustle and grind.
And in Game 1, the Heat threw it right back in their faces. The Heat's most successful lineup per possession Monday night over a sustained stretch featured
Mario Chalmers
,
Dwyane Wade
,
Shane Battier
, and
LeBron James
, along with either
Joel Anthony
or
Ronny Turiaf
at center. Neither is a traditional center with huge size, neither is seven feet tall.
The Battier-James lineup gave the Boston personnel fits. Brandon Bass was left to try and cover Battier on the perimeter while trying to help inside.
Paul Pierce
was left on an island against James, or, on the pick and roll, the Celtics switched and James would wind up on Kevin Garnett.
The result was offensive rebounds, and wide-open looks. Battier was just 2-9 from downtown, and the damage could have been much, much worse. But the result was still a Celtics defense scrambling.
Meanwhile, Battier's presence defensively meant that with Brandon Bass not cutting to the rim, Battier could guard Paul Pierce, frustrating the Celtics captain and forcing him into passive possessions, while James was able to play free safety.
Boston has lived on its small-ball lineups all season. But in Game 1, it was Miami, able to have LeBron James in the power forward spot without him playing power forward, that exploited the small-ball approach. Credit has to go to Erik Spoelstra for not trying to counter the Celtics' size with size.