Darrell Arthur, Nate Robinson to opt-in with Nuggets for 2014-2015
Two Nuggets say they will not opt-out of their final years with Denver and will not be free agents this summer.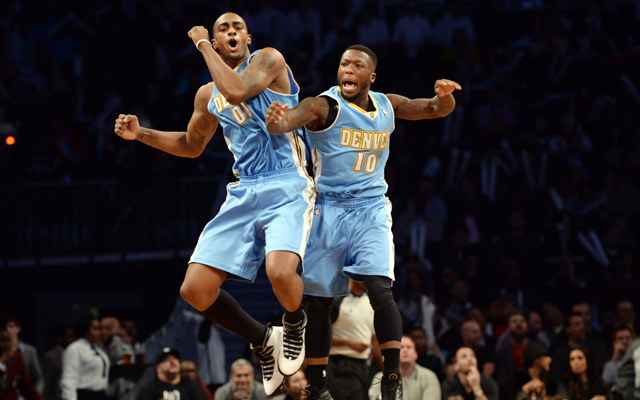 More NBA: Season Awards | Grades: East | Grades: West | Seasons in Review
Two Denver Nuggets players, forward Darrell Arthur and guard Nate Robinson, will be off the available free agents list this summer. Both players have an opt-in for the 2014-2015 season to remain with Denver
The team already has 12 players with guaranteed contracts for next season, and another — Quincy Miller — whose contract would become guaranteed on opening day next season. Two of those contracts, Nate Robinson's and Darrell Arthur's, are player options. Both have told The Denver Post they plan to stay with the Nuggets next season.
via Nuggets GM Tim Connelly wants to acquire "impactful piece" this summer - The Denver Post.
Robinson is a no-brainer after tearing his ACL in January. The market wasn't great for the veteran backup sparkplug last season, allowing Denver to get him on what it felt was a bargain deal. Robinson expects to be ready for training camp, but nonetheless, there's no reason to chance it in free agency. 
Arthur is a different matter. He was the Nuggets' best big defender, and was not used to the losing Denver suffered this season having come up during Memphis' rise to a Western Conference powerhouse. Brian Shaw consistently praised Arthur's defense and Arthur also adapted three-point range this year, significantly improving his ability to stretch the floor and offensive production. His minutes were inconsistent, however, due to both injury and a crowded frontcourt of similar-bodied power forwards in Kenneth Faried and J.J. Hickson. 
Either way, the Nuggets will have those two back, which is crucial for Denver as they badly need point guard depth (but could use at least one guard who can ride Space Mountain) and defensive big men. Whether the two finish their seasons with Denver will depend on how aggressive GM Tim Connelly becomes in reshaping the roster. 
What the Celtics and Cavs look like after the Eastern Conference powers swap point men

Simmons was the No. 1 pick in the 2016 NBA Draft but did not play last season

Wade leaving Chicago is reportedly a matter of when, not if
Wiggins might have to find a unique way to sign the paperwork sent to his now former agenc...

The Cavs ultimately got a good haul for Irving, but could have landed the Dubs' All-Star s...

The King acknowledged the mega trade late on Tuesday, calling Kyrie a 'special talent/guy'