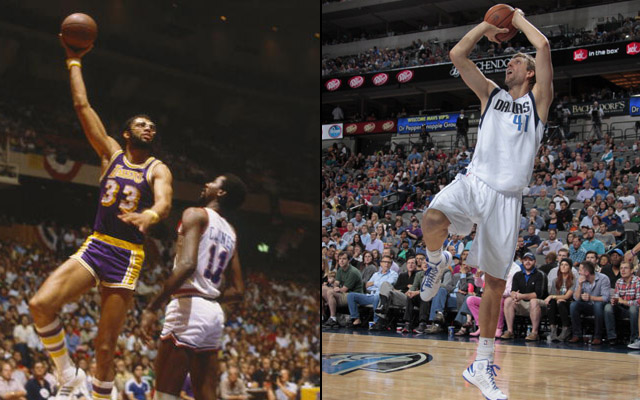 Dallas Mavericks star Dirk Nowitzki's one-legged fadeaway is a work of art. It's a nearly-impossible shot to defend, given the extension of his body on that seven-foot frame and the height of his release point. In a way, Nowitzk's one-legged fadeaway is his own version of Kareem Abdul-Jabbar's skyhook. 
Which is funny, because Dirk's been working on his own version of the skyhook for over two years. 
For two years running now, Dirk Nowitzki has been trying to perfect the sky hook.

The Dallas Mavericks' forward added the shot made famous by Kareem Abdul-Jabbar to his repertoire last season, but with nominal success. Now, he's back at it again.

"The sky hook is a tough shot,'' Nowitzki said following Friday's practice at American Airlines Center. "Especially if you don't have any moves, if you don't come out of the rhythm and just turn around and shoot it.

"That's why nobody else is shooting it like Kareem. I don't know how he did it, but that shot is unbelievable.''
via Nowitzki's hook shot is a work in progress | Dallas-Fort Worth Sports News - Sports Ne....
The idea of Nowitzki developing a skyhook is terrifying, especially considering his touch and control from range. It's not crazy to think about a three-point skyhook from Nowitzki, which is just unbelievable. It also shows you how difficult the skyhook is to duplicate. Nowitzki has enough basketball knowledge and body control to be able to do just about anything, and he still has trouble with it. 
Much of KAJ's dominance is attribued to his height, but seven-footers from JaVale McGee to Andre Drummond and Shaq have tried to duplicate the skyhook to no avail. If Dirk can't get it, it may not be possible. More proof that the Captain truly was one of a kind.