GIF by GIF breakdown of LeBron James' Game 5 fouls
The King sat on the throne for most of Game 5 with foul trouble. We break them down one by one.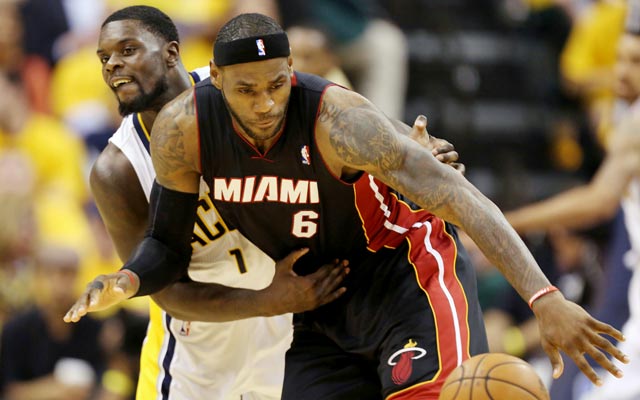 More postseason coverage: Playoff schedule, results | Latest news, notes
Heat forward Lebron James was wracked with foul trouble in Game 5 vs. the Pacers, playing only 24 minutes as the Heat lost 93-90. He finished 2 of 10 from the field for seven points, four assists, with three turnovers. Foul trouble had him off his game the entire night, and, along with his decision to not take the final shot, that foul trouble will be the source of conversation over the next two days until Game 6 in Miami.
It's also notable because James simply almost never fouls that often. James had finished with five or six fouls just 11 times in his entire playoff career entering Wednesday. Let's take a look at the fouls, just to see how the best player in the world got sent to the pine.
Foul No. 1: 6:12, 1st quarter
First up, your routine tripping play. You can argue (as I'm sure James would) that he was just standing there and that the contact is incidental.
You can debate, but typically when a player gets tripped, a foul gets called. Verdict: Not bad.
Foul No. 2: 2:43, 1st quarter
Foul 2 was pretty awful. George Hill drives past James and James goes for the chasedown. There's just not a lot of contact on this play.
Verdict: Bad call.
Foul No. 3: 6:03, 2nd quarter
Foul 3 is the one to get up in arms about. James gets the ball off an offensive rebound and attacks. Paul George steps up to meet him and as he's entering position, starts to flop.
Watch it from this angle:
This angle shows it better. George has clearly not gotten position and is still moving when James makes contact. Not just his feet, but his whole body. He hasn't established position. You can argue that James lowers the shoulder, but based on the dynamics of the play, the only way for him to try and stop himself is to lean forward and move back with his hips.
I will say this last angle is interesting. I slowed it down, and when you watch it, you'll know that George actually has established position, albeit leaning, when James makes contact.
Regardless, that's a bang-bang play. It happens, but the fact that George had to recover, move up on him, and then go backwards suggests some funky physics.
Verdict: Coin-flip call, but contextually surprising.
Foul No. 4: 11:39, 3rd quarter
He reaches in on Hibbert. This one is not hard. He even raises his hand to indicate it. This one he owns. It was just a bad decision.
Verdict: Bad decision, good call. 
Foul No. 5: 8:34, 3rd quarter
Finally, Foul 5. Lance Stephenson gets right up under him and reaches around his back to knock the ball loose. There's a scramble, and both players make contact trying to get around the other one to get the ball.
You can call a foul on Stephenson, you can let it go, you can call a foul on LeBron. Why did LeBron get tagged in this mess? Because there's no interference with either one's path, until James makes contact with his body in front of Stephenson before he's in range of the ball. Watch.
He edges in front of him and makes contact with the body, but you can't really see it from the side. Now take a look at the front angle, slowed down.
James has a right to go for the ball but not by interrupting the path of Stephenson. That's what got him tagged with it. Still. It's a loose ball. Not sure a foul call is the right move there, given the stakes.
The final count? One good call, one straight-up bad call, two bang-bang plays, and one stretch of physics.
This doesn't change the result of Game 5, which the Heat had a chance to win. But it's also clear that while James picking up five fouls may seem ridiculous on the surface, the actual calls were much closer.
Stephen Oh has his finger on the pulse of the Rockets and just made a pick for Wednesday night's...

Gasol doesn't seem opposed to the idea of a midseason trade

The Ball brothers better put their heads down and focus on basketball, according to Billy...
Paul George returns to Indiana for the first time since his trade to the Thunder

Also, LeBron James' historic season continues, while Kevin Durant reminds us who he is

The Rockets are looking for 11 in a row