Knicks' Carmelo Anthony: 'We're playing to lose'
New York star says team is playing tense after nine straight losses.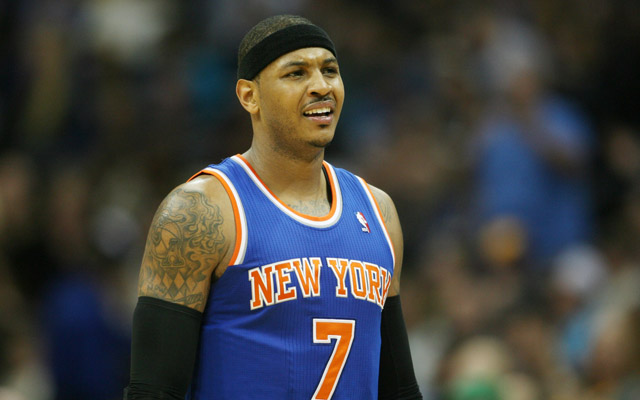 Moore: Yelling at Carmelo could be Shumpert's ticket out of New York
Carmelo Anthony sounds like the New York Knicks are starting to lose faith after their ninth loss in a row Sunday to the New Orleans Pelicans. From ESPN New York:
"I think we're playing to lose rather than playing to win right now," Anthony said after the Knicks' 103-99 loss to New Orleans on Sunday. "When you lose games the way we've been losing them at home, on the road, you start thinking a lot. You start playing a little tense. You start playing on your heels."

Sunday night's loss left the Knicks at 3-13. They are tied with the Milwaukee Bucks for the worst record in the Eastern Conference.

"We just can't seem to get it together," Anthony said after scoring 23 points and getting 10 rebounds. "We can't seem to figure it out."
via Carmelo Anthony says New York Knicks are 'playing to lose' - ESPN New York.
The Knicks were surprisingly upeat after Friday's loss in Denver, talking about how they had played better and thought they had "turned a corner." But they blew a lead to the Pelicans at home after New Orleans lost Anthony Davis to a fractured hand. It was a miserable loss and sent them 10 games under .500. The East is so bad they are still very much in the playoff hunt after a month, but their dreams of winning 50-plus games are fading by the second. 
They can only withstand so many failures before management, ownership or both start demanding changes. Patience is a virtue, but it's also a commodity that's short on supply in New York. 
HT: PBT
Adam Silver said his piece with the schedule out; we address that and what the slate looks...

The Hawks and Sharecare reportedly agreed to terms on a five-year deal

A look at the context of the schedule and who plays who when, and how far they travel during...
Durant took on rapper Lil Dicky and actually might have lost

A report that James would once again be leaving Cleveland made the rounds on Wednesday

Known for his 'take that for data' rant, the Grizzlies coach touched on a number of important...