Kobe: Team USA's citizenship will be revoked if they don't win Gold
Kobe Bryant is not mincing words when it comes to winning gold in the Olympics.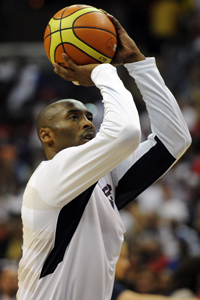 Kobe Bryant will accept nothing less than gold for Team USA.

(Getty Images)
Kobe Bryant told reporters Wednesday that if Team USA doesn't win gold in the Olympics, their citizenship will be revoked, via a British reporter.
If you want to point to the best reason to have Bryant on this roster, even more so than his amazing scoring ability and despite his diminishing athleticism and the injury concerns, it's comments like this. Bryant sets the tone for this team, and unlike years prior to 2007, there's simply no excuse or leniency given. No quarter asked for, none given. 
This Team USA will not be dominant, it's neither as good nor as healthy as the 2008 team, much less the Team Which Shall Not Be Named. But it will be very good, and it its helm, it has players which drive themselves to be the best. The standard is there. Now they have to go out and back up those words against a very good international field. 
Bryant's role on this team may wind up being more "glue that holds it together" than outstanding scorer, though he's going to get his points. This team needs to use its versatile talent to create the best offense it can, not simply give guys the ball and get out the way. At least in attitude, they're off to the right start. And after a shaky performance against Team Brazil early, they may have had the wake-up call they need. 
(HT: HoopsHype)
Our advanced computer model simulated Saturday's Thunder-Cavs game 10,000 times

The Jazz are reportedly looking into trading Rodney Hood before the Feb. 8 NBA Trade Deadl...

The Cavaliers are ready to reset everything if they have to. Their interest in Lou Williams...
It sounds like the Cavaliers are going to be active before the NBA trade deadline on Feb....

We've got all the scores, highlights and news for Friday night

George Hill, who is unhappy in Sacramento, could be a solution to Cleveland's backcourt si...