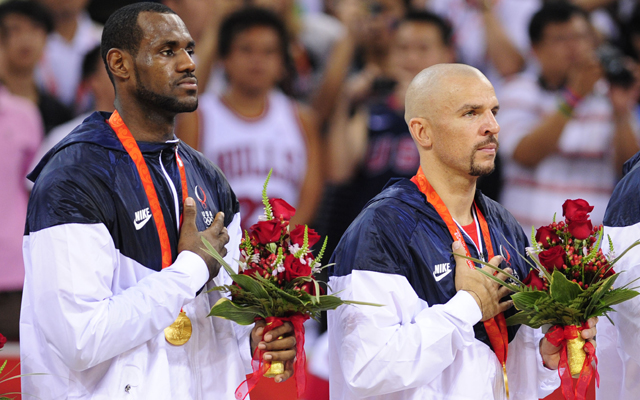 SAN ANTONIO -- Some have very reasonable questions about the Brooklyn Nets hiring Jason Kidd as their head coach. 
Not among those? LeBron James. 
Speaking to reporters prior to Game 4 against the Spurs, James expressed his excitement for Kidd, along with his admiration and support.
"I think it's amazing, honestly," he said. "J-Kidd is unbelievable, one of the best teammates I ever played with. On the '08 Olympic team, he was one of the best friends I would have, on and off the floor.
"He's a student of the game. His basketball IQ is crazy and I think it's going to make it an easy transition for him to be a coach. It's a great thing for him."
Kidd becomes the first player to retire and immediately become a head coach since Mike Dunleavy in 1991. Kidd spent 19 seasons playing for the Mavericks (twice), Suns, Nets and Knicks. 
The question for Kidd is how the transition of going from playing, being a teammate and opponent, to coaching goes. Will his players respect him? When he benches one, will they take it? When he chews one out, will it be weird?
As to how successful he thinks he'll be, LeBron said he wasn't sure. But he's confident Kidd will eventually figure it out. 
"It's going to be a transition, but I don't know," LeBron said. "He doesn't know. It's the first time for him, but it was the same with [Golden State's] Mark Jackson. He had never patrolled the sideline either, but look at the great work he's done in Golden State. You play the game and you're smart, I think it can make the transition much easier for you. And he's not inheriting a bad team, he's inheriting a good team. So that makes the job easier, too."