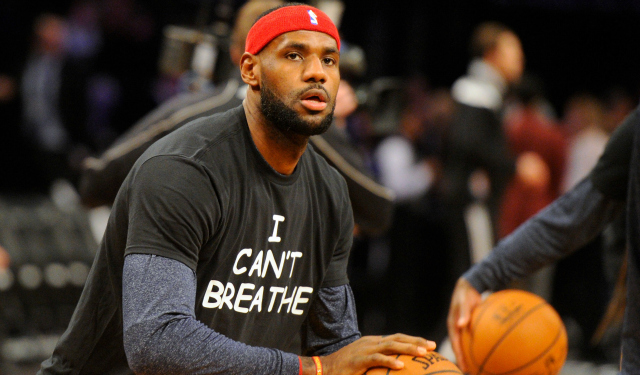 A day after a 5-month-old child was killed in Cleveland, and 10 people were killed in a mass shooting at Umpqua Community College in Oregon, Cleveland Cavaliers star LeBron James spoke to the media at Cavs training camp. Tom Withers of the Associated Press tweeted out a quote from James on the subject of gun control, saying that "There's no room for guns."
LeBron James spoke out on gun control, one day after another infant killed in Cleveland and Oregon tragedy. "There's no room for guns."

— Tom Withers (@twithersAP) October 2, 2015
Joe Vardon of Cleveland.com has these quotes from LeBron:
"I know what I see. I know how I feel.

"Obviously you're not going to be able to take every gun out, I don't know how you can do that," James said. "There's so many around now, today. But if there's some stipulations behind it or some penalties, some big time penalties or rules or regulations about carrying firearms, legal or illegal, people will second-guess themselves."
LeBron James has often been outspoken regarding tragedies. During December of last year, James spoke to the media about police violence, race, and both peaceful and destructive protests that were happening in the wake of the deaths of Mike Brown in Ferguson and Tamir Rice in Cleveland. Back in 2012, James and his teammates posed in a team photo wearing hoodies after Trayvon Martin was killed. He was one of the players who followed Derrick Rose wearing "I Can't Breathe" T-shirts this past season following the death of Eric Garner in New York.