Looks like Wilt Chamberlain is finally getting his stamp.
NBA legend could become first to have his own stamp from the U.S. Postal Service.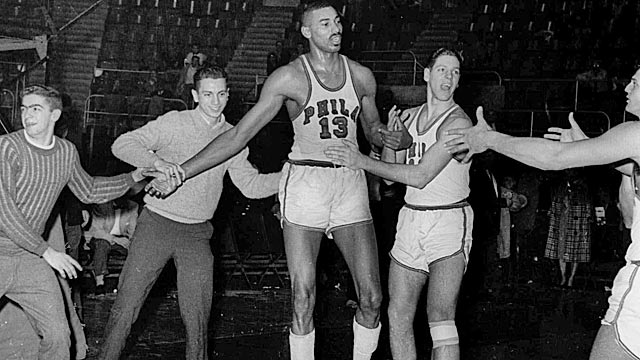 A snoopster on Reddit (and a philatelist) uncovered that it seems the U.S. Postal Service is getting ready to announce the addition of a Wilt Chamberlain U.S. stamp.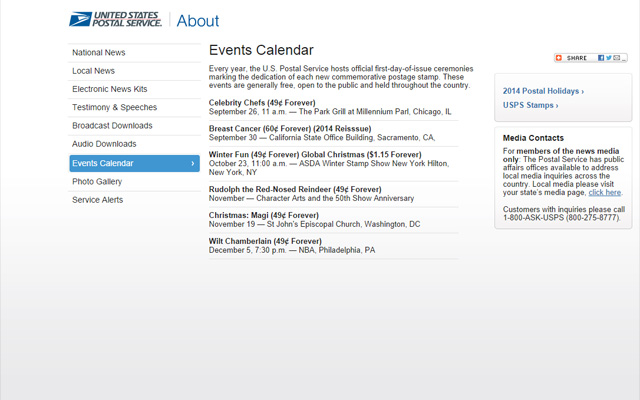 Apparently there's been a grassroots push to provide Wilt Chamberlain with a stamp -- no, really, this is a thing -- since 2008, when a Philadelphia Tribune writer penned a column urging it. In 2013 CBS Philly uncovered an article in a stamp collectors magazine that said Chamberlain had made a list to be considered. 
A referencing article on wiltchamberlain100points.com  (taken from the Philadelphia Tribuen but unavailable on their website) stated that Chamberlain would be the first NBA player to be featured on a stamp. I thought that was crazy, but nope, the article is correct. No NBA players have been given stamps, which is just crazy beyond crazy. 
The effort started in 2011 and Chamberlain was put up for consideration... way back in 2011. Until you realize that the reason is a player has to have been deceased for five years. Chamberlain passed away in 1999. 
Among basketball legends, only Naismith himself, the game's inventor, has been featured on a stamp. He was honored in 1961 when first-class postage cost 4 cents, said USPS spokesman Roy Betts. A few stamps have honored the sport of basketball in a general sense, including a "player" stamp in 1983, an Olympics edition in 1996 and a youth-sports stamp in 2000.

But no specific players -- not George Mikan, not Pete Maravich -- have been featured. Few, of course, are in any hurry, given the requirement that an individual be deceased for at least five years before being eligible for commemoration.
via Stamp of approval: The bid to commemorate Wilt's 100 | NBA.com.
Kind of morbid, post office. Also, speaking of things that have been deceased for years, for any of you reading who are under 25, a stamp is a piece of paper with an adhesive on the back you attach to what are called "letters" or "packages" which are like email or goods that take corporeal form. 
The stamp has to be of him holding up the "100" sign, right? It's the only one it can be. Although, an artist's rendering of him in flight would be nice. I personally prefer the Free Darko print. 
Ball, who has missed the last 15 games with a sprained MCL, will be on a minutes restricti...

Larry Hartstein is in the midst of his best run of the season and released a pick for Mavericks...

Larry Hartstein has nailed 19 of his last 25 NBA picks and just released a play for Cavs vs....
The defending champs made their own plans after being disinvited to the White House

Stephen Oh has his finger on the pulse of the Rockets and locked in a play for Friday

SportsLine's Mike McClure, a DFS pro with more than $1M in winnings, gives optimal lineup...