More Sterling tape: 'Do I make the game or do (blacks) make the game?'
Longer version of conversation leaked to sports media outlet reveals more disturbing racist comments from man believed to be Clippers owner.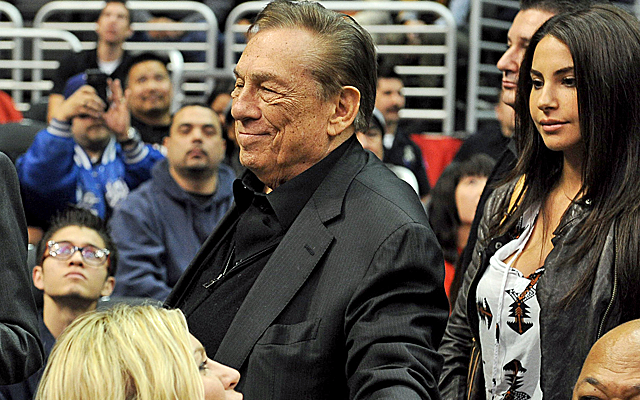 More on Sterling: League investigating | Barkley: Ban Sterling | Reactions
Deadspin.com has obtained a longer version of the tape that contains a man alleged to be Donald Sterling making, somehow, even more disturbingly racist comments than the version released by TMZ on Saturday. In the 15-minute cut of the tape that features discussions of Dodgers outfielder Matt Kemp, Israel, and the Holocaust, the man alleged to be Sterling makes it clear he feels he does enough for the black players he employs: 
V: I don't understand, I don't see your views. I wasn't raised the way you were raised.

DS: Well then, if you don't feel -- don't come to my games. Don't bring black people, and don't come.

V: Do you know that you have a whole team that's black, that plays for you?

DS: You just, do I know? I support them and give them food, and clothes, and cars, and houses. Who gives it to them? Does someone else give it to them? Do I know that I have—Who makes the game? Do I make the game, or do they make the game? Is there 30 owners, that created the league?
via Exclusive: The Extended Donald Sterling Tape.
Sterling has been under fire over the weekend since the tape was first leaked Saturday. The NBA has said it's investigating the matter, while players from Kobe Bryant to Magic Johnson to LeBron James have spoken out on the matter. President Obama weighed in Sunday.
Commissioner Adam Silver said Saturday that Sterling will not attend Game 4 between the Clippers and Warriors on Sunday.
Brown said he hopes to return from his injury on Sunday

The banged-up defending champs expect to get one of their All-Stars back against the Hawks

The Spurs have confronted Kawhi Leonard about his rehabilitation from a quad injury
The big man incurred the tech on the same night he put up a historic 30-30 line

Everything you need to know about the Eastern Conference playoff situation entering Thursd...

The Greek Freak turned his ankle Wednesday against the Clippers, but the outlook seems pos...