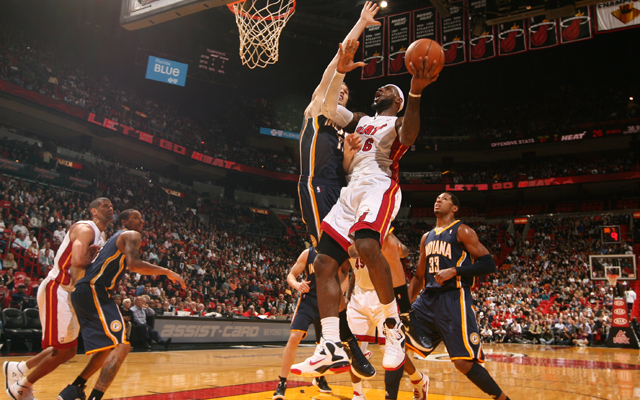 The Pacers will have to gameplan a complete strategy against Miami... and stop LeBron James.
(Getty Images)
Previewing the Eastern Conference semifinal series between the Indiana
Pacers
and Miami
Heat
.


Biggest strength:
Indiana Pacers:
Depth and versatility. The Bulls have a deep team, but they essentially used it the same way. The Pacers, on the other hand, have a deep team that they can deploy in multiple ways.
George Hill
can play either guard spot to try and challenge
Mario Chalmers
' ball-handling or try and hang with Wade.
Paul George
can defend any spot between 1 and 3.
Danny Granger
the 3 or 4.
Lou Amundson
the 4 or 5, especially in this series. The Pacers can throw a lot of looks at the Heat to try and find something that works. The secret is getting it to keep working.
Miami Heat:
Defensive superiority. The Pacers are a defensive team, and that means they're good at defense, but they're also not good at offense. Miami's defense is superb, especially at this point, and they can make this into a grind-it-out game for the Pacers, then throw in some transition opportunities. The Heat are fine with a grind out game, because they're going to find transition points anyway just because of their athleticism. Taking a mediocre offense and running into the side wall is a good way to turn a street fight into a boat race.
Biggest weakness:
Indiana Pacers:
Offensive versatility. The Pacers, for all that positional flexibility, don't have a lot of go-to options. Paul George's shot has vanished. Danny Granger's offensive set is as perplexing as ever.
Roy Hibbert
disappears at times in between solid play. They have one go-to,
David West
on the pick and pop, but beyond that, the Pacers have to find some things they can rely on to create points against a defense schemed to attack their weak points with help defense.
Miami Heat:
Size. One side's got a legit center who can score, the other does not. Indiana can toss aggressive bigs out alongside Roy Hibbert and do damage inside. This is a team with some muscle to go with its speed and the Heat were not built around battling that concept. Hibbert's far from dominant, but he just needs to make his impact known for the Pacers to get an edge and frustrate the Heat. Indiana needs extra possessions; they can make it happen.
X-Factor:
Indiana Pacers:
Paul George. The best thing to do against Miami is get them moving to rotate and then find an open shooter off the cut or screen. George has been inconsistent but at times great in just those situations. They need Paul George to score in this series. Which says a lot about where the Pacers are at.
Miami Heat:
Mario Chalmers,
Shane Battier
, and
Mike Miller
. If the Heat get scoring from Chalmers, et al on the drive and kick, and Chalmers has been lights out for much of this season, Indiana's doomed. You can survive Wade and LeBron attacking inside with help defense. You can't survive doing that and then getting buried by the open three as a result. You just have to hope the shots don't fall.
Matchup Advantage:
Indiana Pacers:
Hibbert's the obvious choice here.
Joel Anthony
,
Chris Bosh
, and
Udonis Haslem
will try and move Hibbert out as much as possible on the catch, as he doesn't muscle his way in very much. But Hibbert's straight-up hook is quick, easy and can demolish a team when it gets going. He rebounds well and has a legitimate advantage because he's not facing an offensive weapon as he was against Glen Davis (have I mentioned the Magic were weird this year?).
Miami Heat:
Transition. The Pacers are an athletic team. That's nice. Flying Death Machine. If Miami gets out and runs the Pacers ragged, it's going to make it even harder for the Pacers' struggling offense to keep up. If this thing turns into a shootout, Miami's going to keep stretching the gap.
Will Win If...
Indiana Pacers:
The Pacers can find some offense, create some extra possessions, get a big series from Paul George, Danny Granger, and Roy Hibbert, and keep their depth by avoiding foul trouble. Oh, and they're going to have to maintain constant discipline defensively on the help, and get some help from missed shots by the Heat's perimeter shooters. Also, they have to hope
LeBron James
doesn't just have one of those series. What I'm saying here is that things do not look good.
Miami Heat:
If they can dictate the style of play. Grind-it-out one end, fly-it-out at the other. That's the Flying Death Machine model. Turnovers and long rebounds into transition scores. They have the athletes and experience to handle both ends. As long as they don't get bogged down by the Pacers' defensive scheme into ISO ball, they can handle the Pacers. The problem is that when things go bad for the Heat, they go really bad...
Prediction:
Heat in five.