Nets-Bulls Game 7 Preview: Who wants it more?
Previewing Game 7 of the Nets-Bulls first-round series.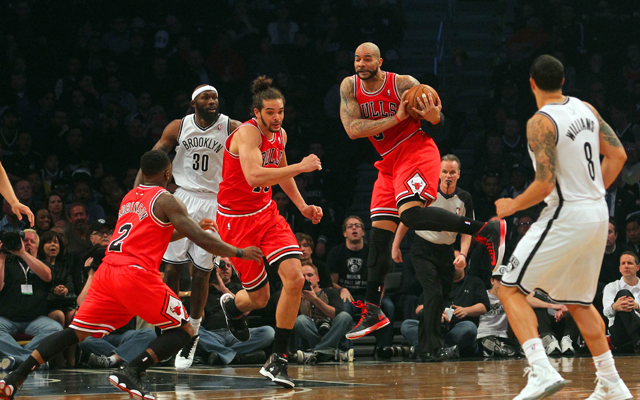 Previewing Game 7 of the Nets-Bulls first-round series.
1. Where We Are: We're all tied up at 3-3 in the series and looking at one final game between these two teams to see which one wants to get to the next round more. The Nets have charged back from a 3-1 deficit with two gritty wins in a row to tie up the series and attempt to take advantage of the homecourt advantage they earned during the regular season. But were these two games something the Nets should be encouraged by? Should they have destroyed the Bulls in Game 6 when they were down Luol Deng, Kirk Hinrich, and half the team seemed to be throwing up on the sidelines? Or is a win a win and it doesn't matter how they come?
2. The Big Number: 44.3. As good as Brook Lopez has been in this series, Joakim Noah has found a way to neutralize him a bit when they're on the court together. His ability to bother Lopez in the restricted area has been phenomenal. When Noah is on the bench, Lopez is shooting 58.3 percent from the field and makes 68.8 percent of his shots in the restricted area. With Noah in the game, the field goal percentage drops to 44.3 percent and his resticted area percentage drops to 51.1 percent. Expect Noah to play huge minutes in Game 7, even with the plantar fasciitis issues.
3. Key Adjustment: There aren't any more adjustments to make. This is it. Game 7 means these two teams have punched and counter punched throughout the series. The Bulls could be missing key players and are still wishing Derrick Rose was able to suit up for one big game. The Nets are relatively healthy and trying to find a consistent way to get into the lane to break down the Bulls' incredible defense. The Bulls have to find ways to manufacture points without having a good offense. They have to find ways to get their perimeter players going.
4. The Big Story: Will the stars outplay the hustle? Will the hustle beat out the stars? The Chicago Bulls have gotten by on a system and hard work. The Brooklyn Nets have the star power but don't always show the willingness to push through the tough times with that little exta everybody is looking for from them. Now we get to see what each team is completely made of, what their coaching staffs will do to motivate them, and if the homecourt advantage of the stars will be too much for the hustling role players in a hostile environment. Enjoy it. 
5. The Facts: 8 p.m. ET start time. Kirk Hinrich is doubtful. Luol Deng is questionable. 
Mirotic was hospitalized with facial fractures after an altercation with Portis during pra...

Irving had some choice words for a fan who heckled him in Philadelphia

Several teams were reportedly interested in Nelson after he was waived by the Nuggets
Cousins got into a heated exchange with a fan during the Pelicans' season opener

Mike McClure, a DFS pro with more than $1M in winnings, gives optimal DraftKings and FanDuel...

Bryant said that execution is the key to taking on 'the big guys'