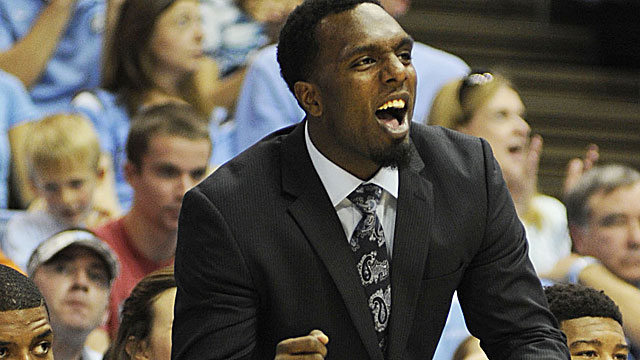 More Offseason Analysis: Coaching changes, news | Free Agency | Draft | Rumors
The New York Knicks traded away their 2014 first round pick in the deal that brought in Carmelo Anthony to the team. They also traded away their 2014 second round pick in a deal along with Jerome Jordan, Toney Douglas, Josh Harrellson, and their 2015 second rounder for Marcus Camby back in 2012. The team doesn't have any picks in this year's draft, which is expected to be loaded with players who can come in and help a team.
That doesn't mean Phil Jackson won't try to add a draft pick in either the first or second round through a trade on draft night. According to P.J. Hairston's agent, the level of interest in Hairston by the Knicks after a recent draft workout is "very, very high." Via the New York Post:
The Knicks have convinced at least one faction they are extremely serious about trading for or buying a late first-round pick with the NBA Draft less than a week away.

When shooting guard P.J. Hairston agreed to work out for Knicks president Phil Jackson on June 5, it was the strongest indication they are setting their sights on more than just buying a second-rounder next Thursday night.

"The interest level is very, very high,'' Hairston's agent, Juan Morrow, told The Post. "You never know what Phil Jackson has up his sleeve.''
The Knicks don't have any picks but they're hoping to grab someone who could go as high as 20th in this draft. As far as assets they could possibly dangle to a team willing to get rid of their first round pick, Tim Hardaway Jr. and Iman Shumpert could be moved if the Knicks were desperate to grab a player late in the first round. The Knicks can also offer up their first round pick starting in 2018. If anything, Hairston's agent letting this be known in the media that the Knicks are high on his client can possibly lead to a team trying to make sure they draft him earlier in the first round if there's interest.
The Knicks could target the Bulls, Thunder, Jazz, Hornets and Suns for a trade partner if they're looking to get serious about moving into the first round. All of those teams have multiple first round picks starting at the 19th pick.