P.J. Tucker arrested in May on 'super-extreme DUI' charge
'Super-extreme' is not a hyperbolic joke, that's actually how Scottsdale police described him. Welp.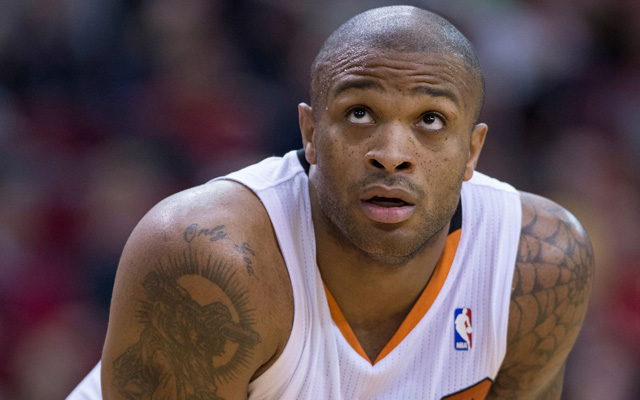 The Arizona Republic reports that in May, Suns forward P.J. Tucker was arrested for what is being termed "super-extreme DUI." Yes, that's the actual term.
Phoenix Suns player P.J. Tucker was arrested for "super extreme DUI" in May by Scottsdale police.

Tucker's blood alcohol content registered at .201 on a preliminary breath test in the field on May 10, according to Scottsdale police. A driver is considered legally drunk for a DUI charge in Arizona at .08 blood-alcohol content. A blood test administered after Tucker was taken to jail and later analyzed by Arizona DPS showed his blood alcohol-content to be .222, according to the police report. A super extreme DUI is .20 or more.

A Scottsdale police officer reported spotting Tucker, 29, driving his 2011 Mercedes-Benz slowly through a stop sign at North Buckboard Trail and East Camelback Road, near a popular downtown Scottsdale nightlife area. According to the report, the vehicle ran that stop sign northbound at about 12:30 a.m., turned wide left into the right lane on westbound Camelback and turned wide again while straddling two lanes on northbound Scottsdale Road before the officer pulled the vehicle over.

Tucker had "thick and slurred" speech and "watery and bloodshot" eyes, according to the report, and the officer detected a "powerful" alcohol odor as he interviewed Tucker. Tucker told the officer that he was coming from the W Scottsdale Hotel, where he had one beer. During a walk-and-turn test, Tucker stumbled to the side and caught himself on a construction fence, the report stated.
via Suns player P.J. Tucker arrested for 'super extreme' DUI.
When you're so drunk that the definition is "super extreme"? That's not good. That's not good at all.
Tucker recently signed a new three-year, $16.5 million deal with the Suns, which they were aware of when they signed him to the deal, the Republic reports. So they must not be concerned with any issues related to him from this. If found guilty, beyond any punishment the court issues, the NBA could suspend Tucker. Jason Kidd was suspended as coach for two games last season following an off-season conviction.
Wade, as he's done so many times in his career, threw it up to LeBron for the thunderous f...

The Warriors coach added there should be no shame in being picked last since everyone's an...

We've got all the scores, highlights and news from all of Saturday's games
The two teams have reportedly not had any substantial discussions to this point

Oladipo may be getting most of the shine, but this second-year big man has been phenomenal...

SportsLine's Mike McClure, a DFS pro with more than $1M in winnings, gives optimal lineup...