Report: DeMar DeRozan, Raptors finalizing four-year, $40-million extension
DeMar DeRozan and the Toronto Raptors have come together on a contract extension.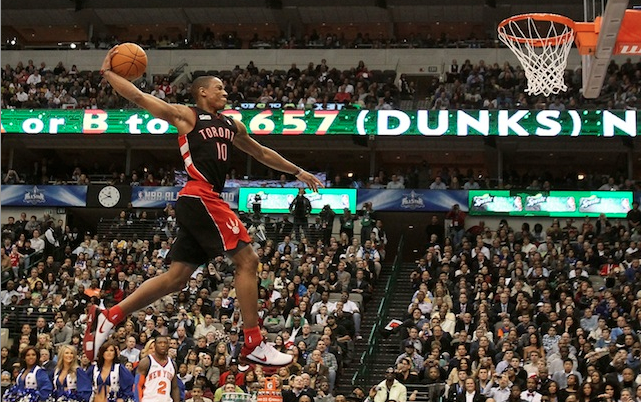 DeMar DeRozan just got DePaid.
(Getty Images)
The Toronto Raptors are apparently giving DeMar DeRozan his big pay day.
Adrian Wojnarowski of Yahoo! Sports is reporting the Raptors and DeRozan are finalizing a big extension just before the deadline strikes tonight.
The Toronto Raptors are finalizing a four year, $40 million contract extension with DeMar DeRozan, league sources tell Y! Sports.

— Adrian Wojnarowski (@WojYahooNBA) October 31, 2012
That is a lot of money for a guy who hasn't really measured out statistically in his brief career. DeRozan was a high-volume scorer last season, pouring in 16.7 points per game on 14.3 shot attempts per contest. He shot just 42.2 percent from the field and just 26.1 percent from 3-point range.
And he doesn't really help you out much anywhere else.
He's a bad rebounder for his position, not known as a defender, and was 80th among guards in assist percentage. Pick any advanced statistic you want to analyze him, and it doesn't look good. He had a 12.4 PER, a 50.3 percent true shooting percentage, and his Win Shares/48 minutes registered at .056.
He's come into the preseason in the "best shape of his life," and apparently the Raptors believe his skill set will catch up to his athleticism because of it.
The Raptors are now paying out roughly $18 million over the next three years for Landry Fields and DeRozan $40 million over the next four years. And they just took Terrence Ross, a shooting guard from Washington, in the top 10 in the NBA draft. They're stockpiling shooting guards like the Orlando Magic are stockpiling lottery-protected first-round picks.
DeRozan is only 23 years old and may play into his contract, but at the moment it seems to be a hefty price tag for a guy who hasn't helped lead Toronto to many wins.
Lakers rookie got his shot to fall, thanks in part to some of the worst defense you will ever...

The singer of the national anthem at the Nets game took a knee at the end

This was the Lonzo Ball people were expecting out of college
Antetokounmpo finished with 34 points, 8 rebounds, 8 assists, and 3 steals, but the Cavs won,...

John Wall is proud of his ability to block shots and thinks nobody at his position has been...

Giannis went at LeBron on a fast break, but LeBron won the matchup