Report: Greg Monroe informs Pistons he will sign qualifying offer
Pistons forward plans to enter unrestricted free agency next summer after prolonged, frustrating standoff with Detroit in restricted free agency.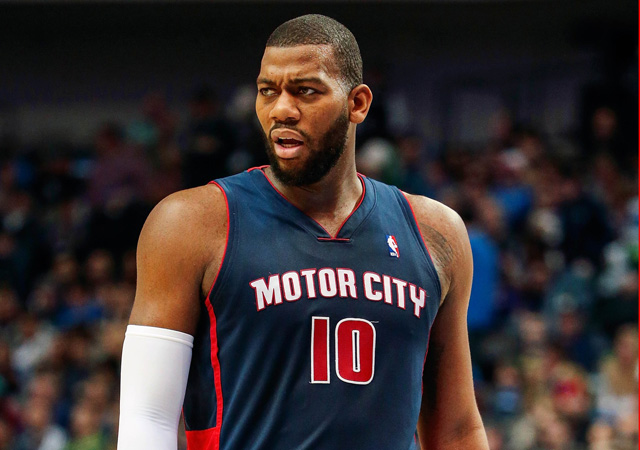 Offseason: Free Agency | Latest from Ken Berger | Rumors
It would appear that Greg Monroe is finally calling the Pistons' bluff. After word leaked Monday that Greg Monroe and his agent were one again pushing their threat to sign his $5.4 million qualifying offer that would make him a restricted free agent next season, USA Today reports that Monroe's agent has informed the Pistons that's the course they're going to take. 
Forward-center Greg Monroe has informed the Detroit Pistons' he will accept the qualifying offer, play for Detroit in 2014-15 and become an unrestricted free agent next summer, two people familiar with Monroe's plan told USA TODAY Sports.

The people requested anonymity because they were not authorized to speak publicly about Monroe's decision.
via Greg Monroe to sign Pistons' offer, delays free agency.
So is there a major difference between "Oh, I'm prepared to do this, you had better watch out!" and "We're going to do this" (but not actually doing it)? Well, yes. By indicating they're set to do it without doing it, it provides the Pistons with time to negotiate a sign-and-trade to make all sides happy. 
But if such a situation were tenable, it likely already would have happened. The more likely scenario is that Monroe simply gambles and becomes an unrestricted free agent. It's interesting that the Pistons are allowing this situation to play out. On the one hand, you're never supposed to just let talent walk. But too often teams follow that maxim to the bitter end and wind up overpaying for marginal players. Monroe has shown legitimate flashes but hasn't put together an overall dominant season and has really struggled the past two seasons. Those struggles are mostly team-contextual, but they exist nonetheless. 
Now the question becomes if Eric Bledsoe will follow suit, or if Phoenix will eventually relent and pay him what he wants to retain him. They've been a lot more adamant about keeping Bledsoe than the Pistons have been about Monroe. We'll also have to see if this was really just the last-ditch bluff by Monroe's agent, or if he actually delivers the signed qualifying offer. 
Westbrook's late layup gave the Thunder a 109-108 victory

LeBron became the seventh player in league history to reach the milestone

There were a few things that stood out from Tuesday's All-Star selections
Here are three players from each conference who had legitimate claims to make the game

LeBron achieved the milestone in the first quarter Tuesday

Here are the full lineups for the 2018 NBA All-Star Game