Report: Knicks sweeten offer to Steve Kerr with 4th guaranteed year
The Knicks are offering Steve Kerr a reported four-year deal.
• 1 min read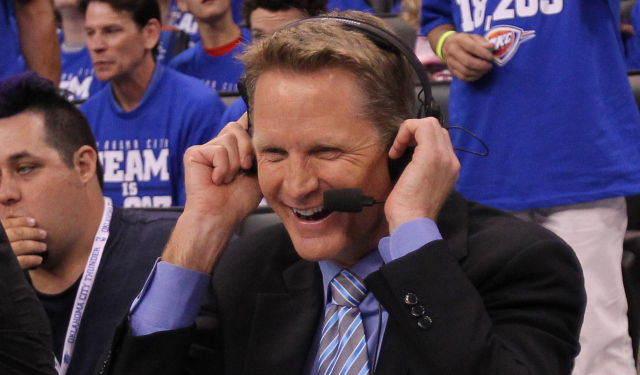 More Offseason Analysis: Coaching changes, news | Free Agency | Draft
The New York Knicks have improved their contract offer to Steve Kerr to be their head coach, according to Yahoo Sports' Adrian Wojnarowski. They had been offering him a three-year contract, with a team option on a fourth season, but decided on Tuesday night that they would do four guaranteed years.
Within the Knicks organization, there was a sense a deal with Kerr wouldn't get done until the organization met that concession. For a franchise that has long shown little inhibition in delivering lucrative management and coaching contracts, this seems to be a far more restrained negotiation process on New York's part.

Several other teams pursuing Kerr – including Golden State – had already met that condition in contract length, front-office sources said.
New York had reportedly not wanted to pay Kerr, who would be a first-time coach, like he was a huge name. There is not a bidding war at hand between the Warriors and Knicks, according to Yahoo -- Kerr is reportedly just taking his time to decide which opportunity he prefers.
Meanwhile, Golden State, believing that Kerr is likely to choose New York, is turning its attention to Lionel Hollins. 
Kerr is expected to make a decision "soon," according to Yahoo. It already feels like this has gone on forever.
A report last week indicated Charlotte is looking to move Walker, along with one of its hefty...

Barea responds by claiming that none of Wall's teammates like him; the Wizards continue to...

Cousins finished with 44 points, 24 rebounds, and 10 assists
Love left Saturday's game, which the Cavs lost 148-124, due to illness

Kidd was fired by the Bucks on Monday afternoon

We've got all the scores, highlights and news from an NBA Monday