Report: League met with Knicks and Nets owners to tone down rivalry
The league reportedly sat down with James Dolan and Mikhail Prokhorov last season to try and ease tensions between the two franchises.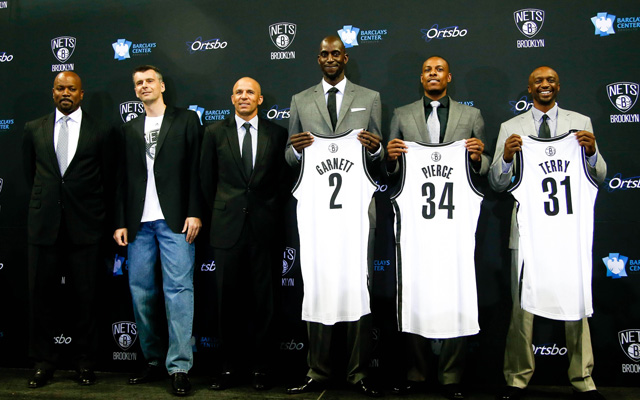 The New York Post reports that the league arranged a meeting last season between New York Knicks owner James Dolan and Brooklyn Nets owner Mikhail Prokhorov to try and get them to back off on the needling that has sparked a rivalry between the two franchises since 2010. 
Play nice, guys.

That essentially was the directive given to owners James Dolan of the Knicks and Mikhail Prokhorov of the Nets this past season during a meeting orchestrated by NBA commissioner David Stern, who wanted to snuff any lingering tension between the two and prevent a full-blown feud, multiple league sources told the Post.

"There was such a meeting and the parties both said it was a very cordial and pleasant one," said one league official with knowledge of the sit-down, which happened early in the season.

The official also confirmed Stern assisted in getting the pair together in an attempt to prevent a wave of spitballs going back and forth over the Brooklyn and Manhattan Bridges.

See? It's not just players like Paul Pierce and Raymond Felton fueling the feud between the two NBA teams sharing the city. It has been going on for a while, but the Nets no longer are the poor stepchild performing in a New Jersey swamp.

Another person with direct knowledge of the sit-down called it "cordial and friendly."

Spokespersons both for Prokhorov and for the Knicks said "no comment" regarding the meeting.

One source maintained Prokhorov stokes the rivalry fires because he believes the feud "is great for both teams" and insisted it is "not at all personal" against Dolan, the Garden chairman and Cablevision CEO.
via Sources: NBA met with New York Knicks over James Dolan and Brooklyn Nets owner Mikhail Prokhorov to iron out tensions between the teams - NYPOST.com.
Prokhorov's right. This professional-wrestling-esque soap opera is nothing but great for the league. The idea of these two wealthy moguls feuding over their collections of basketball players, putting up billboards, matching ridiculous spending with ridiculous spending, it only adds the intrigue. 
I'm about as Midwest anti-East-Coast bias as it gets and I find the New York "rivalry" fascinating. From Prokhorov's constant needling and one-upsmanship to the rumors that Dolan instructed the Knicks to pursue a strategy that landed them Andrea Bargnani to try and match the Nets' acquisition of Kevin Garnett and Paul Pierce, to the bilboards, to the showmanship at press conferences, it's all fascinating.
Prokhorov, unlike so many billionaire owners, has chosen to play the "heel" so to speak, and has come just short of nailing Dolan with a steel chair at All-Star Weekend and spraypainting "Hello Brooklyn" on his back. He's at the press conferences, he's dishing quotes to the media, he's racking up luxry tax bills the size of a medium-size country's GNP, he's doing it all. And Dolan comes across as the seething straight man, furious at this newcomer's attempts to challenge Cablevision's authority as the top basketball game in town. 
We need these two in a playoff series. It needs to happen. NBA, if you're going to interfere, make that happen. 
HT: SLAM Online
Stephen Curry, who grew up in North Carolina, wants to be part of the next Panthers ownership...

Vince Carter is destined for a Raptors reunion; he doesn't know when it'll happen

Thomas has a target date for his return, and with the Cavaliers scorching, this could be h...
LeBron James once again is using his platform to be socially active

Not many games, but still plenty of action and intrigue Sunday in the Association

Kobe Bryant had a solid piece of advice for back in 2016 when he left OKC for Golden State