Report: Magic, Hawks interested in Greg Monroe
Detroit big man could join young, versatile teams in the East, but what would they have to give Detroit to let him go?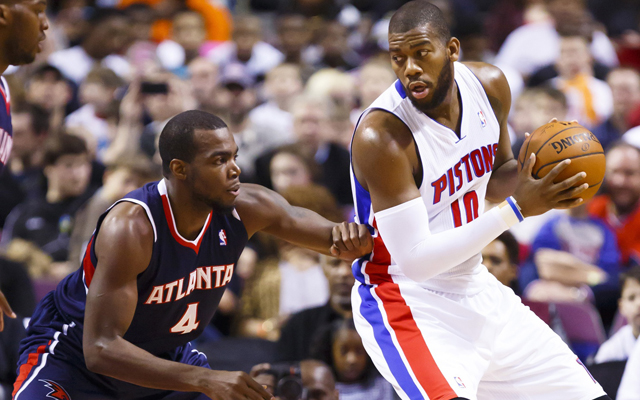 More Offseason Analysis: Coaching changes, news | Free Agency | Draft | Rumors
ESPN reports that the Hawks and Magic are expected to be suitors for Pistons forward Greg Monroe once free agency beings at midnight Tuesday.
Atlanta Hawks are one team that keep coming up as a potential suitor for Greg Monroe as he becomes restricted free agent at 12:01 AM

— Marc Stein (@ESPNSteinLine) July 1, 2014
And the Orlando Magic are another team said to possess Greg Monroe interest

— Marc Stein (@ESPNSteinLine) July 1, 2014
Both teams present interesting options for Monroe.
The Hawks have a versatile roster and could pair Monroe with expert defender and high-low post player Al Horford. The question then would be what they would do with Paul Millsap. Would they trade Millsap to Detroit in a sign-and-trade? The Pistons might honestly consider that, given how much freedom it would give them and Millsap's versatility being a better fit for Stan Van Gundy's system. Would Millsap come off the bench? Millsap was an All-Star last year. Would they really bring him off the pine? 
Orlando has a young, versatile roster. The issue is that neither Monroe nor Nikola Vucevic can protect the rim. Defensively, they would be at considerabl risk in that scenario. But with Victor Oladipo, Elfrid Payton, Aaron Gordon, Vucevic, and Monroe, they would be one of the best rebounding teams in the league. 
Detroit has the right to match any offer for Monroe and are expected to either A. match the offer or B. demand a significant return for letting Monroe go. In other words, teams can get him, but it's going to cost more than the offer sheet to bring him to their team. 
Here are three players from each conference who had legitimate claims to make the game

LeBron achieved the milestone in the first quarter Tuesday

Here are the full lineups for the 2018 NBA All-Star Game
We've got all the scores, highlights and news from an NBA Tuesday

Players reportedly challenged Love for leaving Cleveland's game against OKC early

The Cavaliers are reportedly very close to acquiring the 10-year veteran point guard