Report: Pistons want Rondo but would have to trade Drummond
The Detroit Pistons reportedly want to acquire Rajon Rondo, but won't give up Andre Drummond to do it.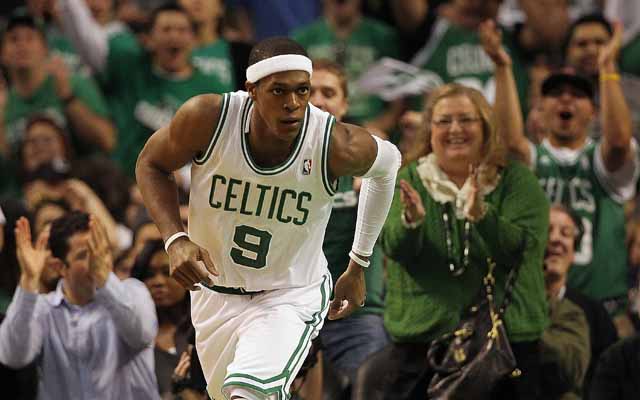 The Boston Globe reports the Pistons want to make an offer to acquire Celtics point guard Rajon Rondo but don't have the assets: 
The Pistons are quite interested in Celtics point guard Rajon Rondo, but they don't have a package to offer that would attract president of basketball operations Danny Ainge to making a deal. The Celtics would presumably ask for emerging center Andre Drummond, who is as close to untouchable as a younger player can get. Detroit would like to send the Celtics Brandon Knight and an expiring contract, but that wouldn't be nearly enough. Detroit doesn't have a first-round pick to offer because of the Ben Gordon deal that gave the Bobcats the choice of a Pistons draft pick over the next four seasons . . .
via After a long dry spell, Detroit Pistons make major strides toward relevance in NBA - Sports - The Boston Globe.
This has to be a no-go. You can debate the value of potential vs. certified production, but this simply gets too complicated. The Pistons can't trade a potential franchise center in a league perilously short on them for a point guard with shooting and attitude issues coming off ACL surgery. Meanwhile, the Celtics can't trade a perennial All-Star and their best remaining player without getting a player of Drummond's caliber back, along with Knight and a future first-rounder maybe two years down the line. 
It does make you wonder why something couldn't be hatched for Greg Monroe, however. The Pistons seem to be focusing an awful lot on Drummond and not as much on Monroe, who averaged 16 points and 10 rebounds last season with a PER of 19.4 and four assists per game to boot. Monroe is only 23 and is, quite honestly, one of the more underrated players in the game. He'd make for a fine building block for Boston, along with the other assets that they would acquire. The Pistons would get to keep Drummond, get Rondo to pair with Josh Smith and go from there. 
It's almost too much for Rondo from the Pistons' side of things, unless you add some protections onto a package with a future first-rounder down the line and Knight. 
But as it stands, this one can't happen. 
Kevin Durant says he doesn't agree with what President Donald Trump agrees with

Evaluating where the future Hall of Famer might land up if he is freed from Chicago's rebuilding...

Adam Silver said his piece with the schedule out; we address that and what the slate looks...
The Hawks and Sharecare reportedly agreed to terms on a five-year deal

A look at the context of the schedule and who plays who when, and how far they travel during...

Durant took on rapper Lil Dicky and actually might have lost