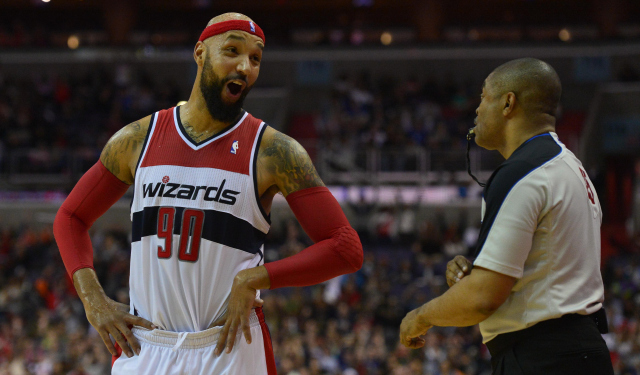 Offseason: Free Agency | Latest from Ken Berger | Rumors
Washington Wizards big man Drew Gooden is planning to play for Finland in the 2014 FIBA World Cup, according to Jorge Castillo of the Washington Post. Gooden's mother is Finnish, and met his father when he was playing professional basketball there.
ESPN's Fran Fraschilla mentioned during the broadcast of the Team USA scrimmage last Friday that the 32-year-old Gooden was "set to play for Finland" and Kyle Weidie of Truth About It confirmed that he was on Finland's list of submitted players. 
Back in 2007, Gooden spoke with ESPN's Jemele Hill about his heritage and the possibility of playing for Finland later in his career:
You're half-Finnish, right? You know any Finnish?

I know a little bit. My mother is from Finland and my father is from California. He met my mother in Finland while he was playing professional basketball overseas.

When was the last time you were in Finland?

I was in Finland seven years ago. I used to go every two years to see my family. My grandfather and grandmother are out there.

What's Finland like?

Finland has a lot of trees, a lot of lakes and a lot of beautiful women. It's a good country. I like it a lot. That's part of my heritage, so it's good to go back.

How are you received in Finland?

A lot of people don't know I'm half-Finnish. They don't know until I tell them my mom's last name and they know right away. I'm starting to get involved in the media out there and let it be known I am of Finnish descent. Two summers ago, I tried to play on the Finnish national team, to see what the process was since I couldn't play on the U.S. team.

What was the process?

I would have had to get a Finnish passport and get dual citizenship. But if I get dual citizenship and play for the Finnish national team, I can never play with USA Basketball. So, do I risk my U.S. citizenship and a chance to play in the Olympics to play for the Finnish national team that doesn't make it? I don't think that would be too smart. But if my years start winding down and I can't play on the USA Olympic team, I'll jump ship and try to be a Finn.
Finland, ranked 39th in the world, was a controversial selection to be a part of the FIBA World Cup. Rovio, the company that made Angry Birds, assisted the country's bid for a wild-card spot. It did do fairly well at the 2013 European Championships, however. 
Erik Murphy, who was recently traded from the Utah Jazz to the Cleveland Cavaliers, is also on Finland's roster.
Gooden averaged 8.3 points and 5.2 rebounds for the Wizards last year, shooting 53 percent from the field. He re-signed with the team for a one-year, minimum-salary contract in July.