Report: Wolves want Klay Thompson and a first from Warriors for Love
Golden State may have to give up a future pick and the star shooter to get its hands on the All-Star forward.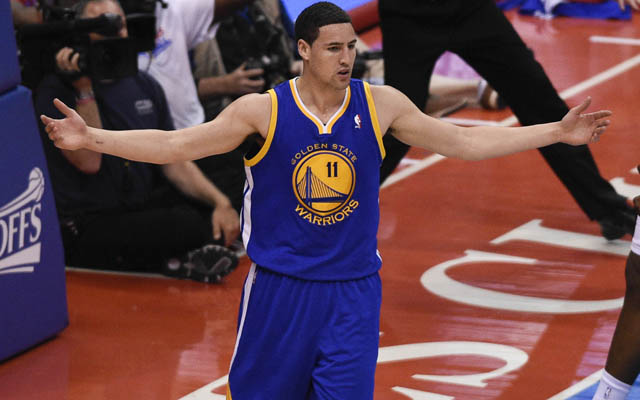 More Offseason Analysis: Coaching changes, news | Free Agency | Draft | Rumors
Here's your latest #LoveBoat update as the Golden State Warriors continue to try and cram their way to the front of the line for Kevin Love like those frat bros at a summer music festival. 
The Minnesota Timberwolves are seeking a future first-round pick from the Golden State Warriors in addition to the rights to prized marksman Klay Thompson in Kevin Love trade talks, according to sources close to the situation.

Sources told ESPN.com that the Warriors, while they covet Love greatly, have been weighing internally whether they're prepared to give up two such assets in addition to former All-Star forward David Lee for Love and Wolves swingman Kevin Martin.

Sources say the Wolves also have expressed interest in Warriors forward Harrison Barnes, with various trade constructions being exchanged by the teams in recent days as next Thursday's draft draws near.
via Golden State Warriors add Klay Thompson to possible Kevin Love trade - ESPN.
On Thursday, a report indicated that the Wolves, who had been calcitrant about the possibility of trading Thompson, had eased on that position. The Timberwolves may be losing their franchise star, but their plan for how to handle this trade has been perfect so far.
Step 1: Generate offers by leaking they're open to it. 
Step 2: Take every offer and then send it to another team and say, "See what we can get here? What else do you have?"
Step 3: Take every offer and then say "Great ... and?" 
The trick with the Warriors is that they've already given up their first this year to Utah to make room to sign Andre Iguodala last summer. They also owe a 2017 first-round pick to Utah in the same deal. So they would have to either trade for a pick or wait until after the draft to trade their 2015 pick due to the Stepien Rule. Which means the Wolves couldn't get a 2014 pick via a third team in the deal.
It's also smart to engage Golden State on this level. The Warriors won't have the cap space in 2015 to sign Love. If they're going to get him, it has to be through trade, and with the number of offers on the table, their window is tight. They're squeezing a hyper-aggressive team with a limited timetable. We'll see if the Warriors bend or break.
SportsLine simulated Monday's Clippers-Raptors game 10,000 times, with some surprising res...

SportsLine simulated Monday's Pelicans vs. Rockets game 10,000 times, with some surprising...

The Raptors will try to continue their run of dominance.
The Rockets are still the NBA's hottest team, but don't sleep on the Spurs now that Leonard...

Kevin Garnett has no interest in working with Glen Taylor, but he'd gladly buy the Timberwolves...

LaVar Ball formed a pop up shop in New York to sell Big Baller Brand merchandise. The results...