Russell Westbrook will not refer to FedEx Forum as the 'Grindhouse'
When asked about the "Grindhouse" in Memphis, Oklahoma City Thunder guard Russell Westbrook makes sure to call it the Fedex Forum.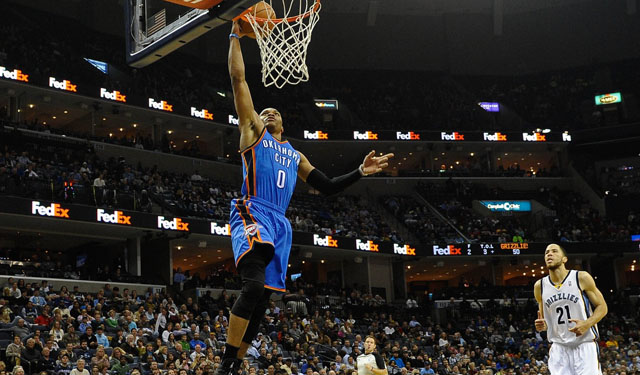 More Playoffs: Schedule | Threat Matrix | Previews: East | West | Picks
Oklahoma City Thunder guard Russell Westbrook has been known to troll a road arena or two. He infamously denied Denver Nuggets' fans free queso when the mascot Rocky took a half court shot twice in the span of a couple minutes and Westbrook goal tended the shot each time. Had Rocky made it, the crowd would've received a coupon for free queso. The trolling has traveled to Memphis where the locals have nicknamed the arena of the Grizzlies the "Grindhouse."
Just don't expect Westbrook to refer to it or let someone in his presence refer to it as the "Grindhouse." He would like to make sure FedEx gets its money's worth for buying the naming rights to the FedEx Forum. From the Commercial Appeal: 
He was responding to a question from one of Memphis's longest-tenured TV sports anchors, Jarvis Greer, that went like this: "Your road record is one of the best in the NBA but talk a little bit specifically about playing here in the Grindhouse against this team."

Westbrook gave Greer a bit of a quizzical look and said, ""You said the FedExForum? That's the name of the arena, right?"

To which, Greer answered in the affirmative. Then Westbrook continued: "Uh, playing at the, uh, FedExForum , it's a good arena, the fans are loud and they cheer on their team and we just gotta come in and play our game."
If the Grizzlies' fans don't get a "Grind-House!" chant going every time Westbrook touches the ball tonight, then what are we even doing in the playoffs right now?
The Cavaliers are ready to reset everything if they have to. Their interest in Lou Williams...

It sounds like the Cavaliers are going to be active before the NBA trade deadline on Feb....

We've got all the scores, highlights and news for Friday night
George Hill, who is unhappy in Sacramento, could be a solution to Cleveland's backcourt si...

Shaquille O'Neal and Sir Charles cruise to an easy victory over some hot peppers

If Charlotte indeed moves its star guard, there's going to be more people impacted than just...