Team USA's young and the restless show out against Tunisia
Team USA's second unit makes the most of an opportunity to shine against Tunisia in a U.S. win.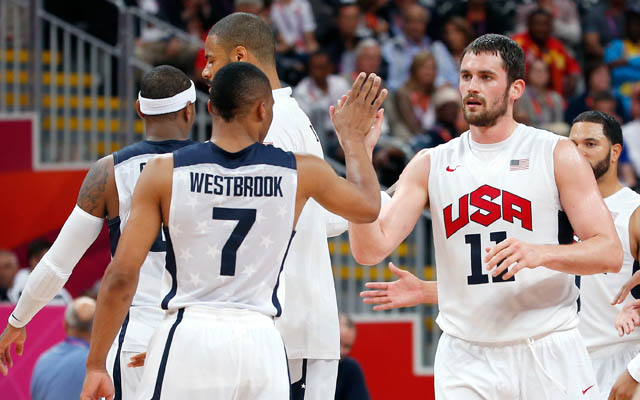 The young guns on Team USA carried the day vs. Tunisia.
(Getty Images)
A hockey lineup for Team USA and they didn't even need a miracle.

Against Tunisia, Coach K yanked his starters halfway through the first period after a perilously sluggish start. With Tunisia leading 8-4 at one point, yes, that's right, Tunisia, leading, 8-4 at one point, he subbed in an entire bench line. Krzyewski later said that the plan the whole time was to get everyone equal time. The hidden part of that is "because Tunisia was not going to win this game in any universe, ever." And while they did keep it within reason for a half...

Yeah, third quarter, 39-14, and that was that.

But the bigger point is the success they found with that second unit, with Russell Westbrook, Andre Iguodala, Carmelo Anthony, and, perhaps most surprisingly, Kevin Love. Love had his second strong game in the tournament after a struggle in the exhibition series. Westbrook made plays in transition and forced the issue where the starters were settling for jumpers.

It was an interesting shift in tempo and approach, as Team USA pushed the ball and used their athletic advantage to a stronger measure.

As Royce Young wrote, Anthony Davis made a huge impression in the second half, lighting up the crowd with an array of alley-oops. Deron Williams was an adjustment defensively. James Harden finally got to make the plays he usually does. It was a uniquely different lineup focusing on the younger players that broke the game open. And while the starters no doubt would have done the same damage at some point, it's proof that if necessary, Team USA can rely on this next level on the roster can contribute.


There's no shortage of moments to choose from

The Trail Blazers almost traded for Charles Barkley, but when they didn't, it put them in debt...

The self-proclaimed ASG snub Williams may be bitter about Butler requesting to sit out Sun...
The commish said they were overly conservative with the decision this year, but that should...

A dive into the NBA history books for every result from every NBA All-Star Game

James set the tone during practice that this year's All-Star Game was going to be differen...