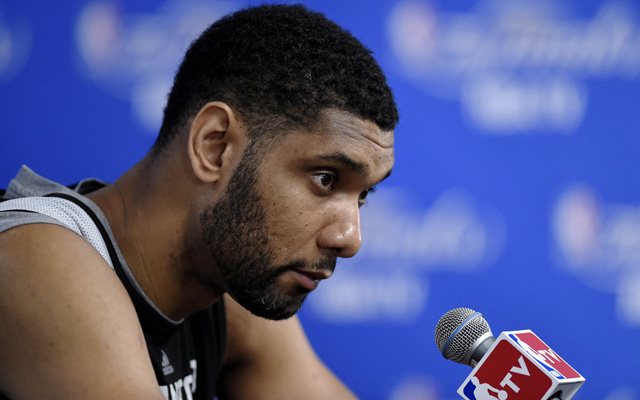 Spurs All-Star Tim Duncan told Bloomberg that due to what he claims is faulty financial advice from an adviser who hid his own interest in investment opportunities, he has lost more than $25 million in investments. Duncan is suing Charles Banks for over $1 million dollars, but says that it's not going to do significant damage thanks to the amount of money he's made in his career.
The promise of a multimillion-dollar contract won't be a factor in whether Tim Duncan returns for his 19th National Basketball Association season, even though the San Antonio Spurs All-Star lost more than $20 million to what he says is a dishonest financial adviser.
"Luckily I had a long career and made good money," the 39-year-old Duncan, who has been paid about $220 million over his career, including about $10 million this past season, said in a telephone interview. "This is a big chunk, but it's not going to change my life in any way. It's not going to make any decisions for me."
Source: Losing $25 Million Won't Determine if Spurs' Duncan Returns - Bloomberg Business.
Must be nice to be able to drop $25 million and just shrug it off. If I lose $20 out of my wallet I spend hours trying to track it down like Sherlock Holmes. Duncan's comment on trust, however, is pretty sad, given his overall optimism towards people and the sad lesson he learned from the ordeal.
"I'm not a speech guy. I'm not gonna go out and preach to people," said Duncan, whose off-court ventures include BlackJack Speed Shop, an auto customization business with two locations in Texas. "I'm not going to go on a circuit trying to warn people."
Even so, Duncan said he hoped his story would get "out there" so that younger athletes can learn about the cautionary tale of an athlete who never thought it would happen to him.
"I'm a loyal guy. I'm a man of my word, and I assumed other people would be that way," Duncan said. "That's just not the case in life."
Duncan said he learned of the misappropriation of funds during his 2013 divorce, which was going on the same time as the Spurs' devastating loss to the Heat in the NBA Finals. So all in all, it sounds like 2013 was a pretty crappy year for the Greatest Power Forward of All Time. But Duncan's moved on, will get some of his money back, won the title in 2014, and generally has a pretty awesome life. It's good that he has perspective on the situation.
Because Kobe Bryant would be going "Kill Bill" on this guy.